For immediate release
27 Jan 2021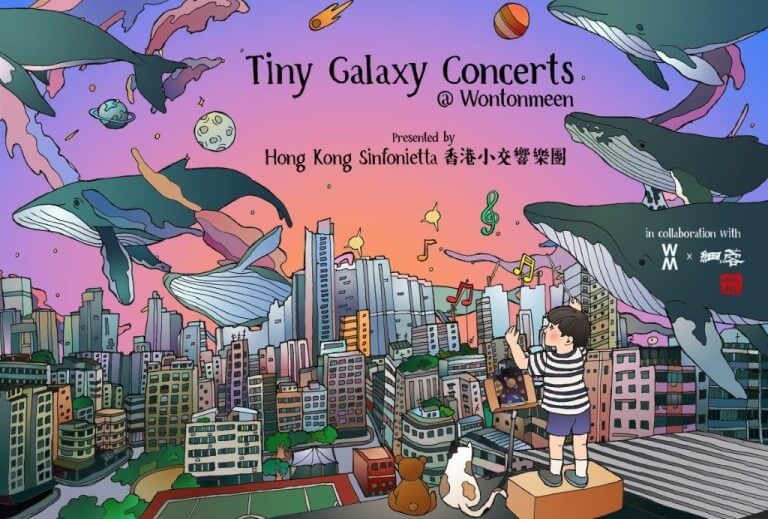 Hong Kong Sinfonietta proudly presents "Tiny Galaxy Concerts @ Wontonmeen" – an online chamber concert series curated in collaboration with Wontonmeen – a hostel located in the vibrant and historical neighbourhood of Sham Shui Po. We invite you to explore with your eyes, ears and heart the beauty of where hand-picked gems of chamber music collide with the sentiments and quintessence of an old Hong Kong. Leave behind all expectations, and enter this imaginative space with our musicians – welcome to our precious, mesmerising, wondrously tiny musical galaxy!
The first two episodes of "Tiny Galaxy Concerts @ Wontonmeen" are currently available for watching on demand on Hong Kong Sinfonietta's Facebook page and YouTube channel. The first episode features Bartók's stimulating, folk-inspired Contrasts, performed by Concertmaster James Cuddeford, Principal Clarinet Fong Hiu-kai Johnny and pianist Colleen Lee (HKS Artist Associate 2010-2011), while the second episode focuses on the sparkling music of Mendelssohn, as pianist Colleen Lee plays a couple of Songs Without Words, and clarinettists Fong Hiu-kai Johnny and Chen Chiu-yuan play the Concert Piece No 2 in D minor with pianist Li Hau-ling Jacqueline.
More episodes in the series will be released in due course – for more information on the schedule of release and programmes, please stay tuned to Hong Kong Sinfonietta's Facebook page.
Hong Kong Sinfonietta
Tiny Galaxy Concerts @ Wontonmeen
Episode 1
Programme
Bartók        Contrasts
                           Violin: James Cuddeford
                           Clarinet: Fong Hiu-kai Johnny
                           Piano: Colleen Lee  (HKS Artist Associate 2010-2011)
Watch now: https://youtu.be/-gdnnRqU9UI
Episode 2
Programme
Mendelssohn        Songs Without Words, Op 53: Nos 3 & 4
                                           Piano: Colleen Lee  (HKS Artist Associate 2010-2011)
Mendelssohn        Concert Piece No 2 in D minor, Op 114
                                           Clarinet: Fong Hiu-kai Johnny, Chen Chiu-yuan
                                           Piano: Li Hau-ling Jacqueline *
  *Guest performer
Watch now: https://youtu.be/PA69Ce4GXBc
Download Press Release
Media Enquiry
Amanda Mok
Senior Marketing & Development Manager, Hong Kong Sinfonietta
Email: amanda.mok@hksinfonietta.org
Direct Line: +852 3607 2328