For immediate release
29 July 2021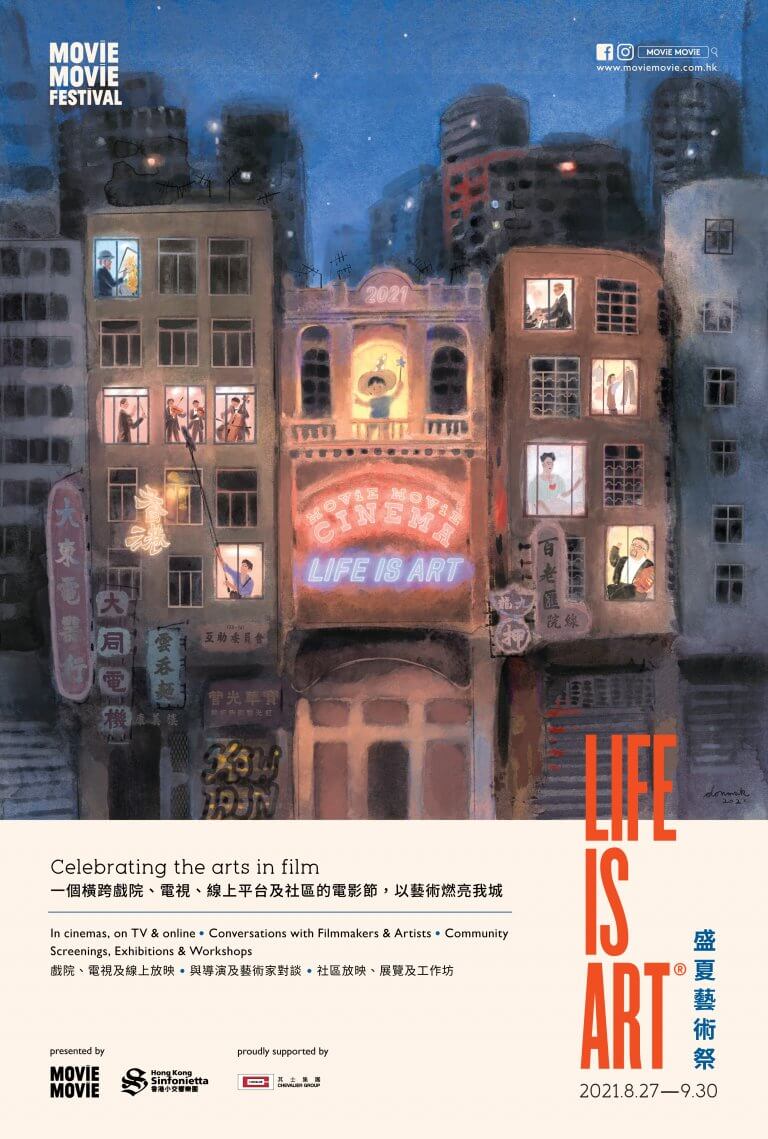 In an unprecedented collaboration between MOViE MOViE and Hong Kong Sinfonietta, Life is Art Festival 2021 takes place from 27 August to 30 September at MOViE MOVIE Pacific Place, MOViE MOViE Cityplaza, and other Broadway Circuit cinemas. Our annual occasion celebrates the myriad of different mediums of the arts through workshops, interviews, film screenings, and multi-cultural events.
World Premiere
Life is Art 2021, in cooperation with Hong Kong Sinfonietta, opens with the world premiere of BACK ON STAGE III: DESTINY. Embracing the theme of fate, BACK ON STAGE III: DESTINY is the third instalment of Hong Kong Sinfonietta's long-anticipated concert film series. Closing the festival, ALL-STAR TINY GALAXY @WONTONMEEN takes place at a hostel named WONTONMEEN in Sham Shui Po, interweaving orchestral music with Hong Kong culture.
Other world premieres include VIVE LA MUSIQUE!, which captures the intimate expression of musicians with omnipresent cameras positioned throughout the concert hall.
Hong Kong Premiere
Screening in Hong Kong for the first time, MAX RICHTERS' SLEEP intersects neuroscience with music. EXHIBITION ON SCREEN: SUNFLOWERS is an expedition through Van Gogh's iconic sunflower paintings; BOTERO introduces defining artist Fernando Botero and his journey to the pinnacle of the art world.
Life is Art Festival also probes into niche disciplines that are rarely discussed, from fashion to architecture and theatre. REFASHIONED advocates sustainable fashion; THE ELBPHILHARMONIE – HAMBURG'S NEWS LANDMARK traces the construction of one of the world's best concert halls; AALTO revisits the humanistic architecture designed by the modernist couple, Alvar and Aino Aalto; MARTHA: A PICTURE STORY captures the life of street art photographer Martha Cooper; BAD ACTING XTRA shares the bittersweet stories of well-known theatre director Olivia Yan and her students; ROMEO & JULIET (NT LIVE) is a contemporary adaptation of Shakespeare's tragedy and an innovative hybrid that captures the raw theatricality of a play in a well-edited film. Premiering at the cinema, multi-disciplinary artist Samson Young delivers an unsettling muted performance through optics in MUTED SITUATION #22: MUTED TCHAIKOVSKY'S 5TH.
Revisit the Classics & Encores
In addition to brand new movie titles, the festival revisits a number of timeless classics: FANTASIA – the original 1940 animated extravaganza mixes Disney's iconic animation with seminal examples of symphonic music; EXHIBITION ON SCREEN: FRIDA KAHLO provides a fascinating insight into the legendary artist; MAKING WAVES: THE ART OF CINEMATIC SOUND shows us how sound effects are made "behind the screens"; Oscar-winning PETER AND THE WOLF is a timeless example of stop-motion animation; READ SING EILEEN CHANG reads and sings the masterpieces of Eileen Chang in the creative and technological Zuni Experimental Theatre; READING DREAMS, TALKING NARRATIVES appreciates the classical Kunqu (Kun Opera) art by documenting Tang Xianzu's play "Dream on Dreams"; and last but not least, Hong Kong Sinfonietta concert films BACK ON STAGE and BACK ON STAGE II (QUARANTINED!) return, following more than 20 sold-out screenings earlier this year!
MOViE MOViE General Manager Joycelyn Choi:
"MOViE MOViE and Hong Kong Sinfonietta were connected because of COVID. During the closure of City Hall Concert Hall, Hong Kong Sinfonietta's BACK ON STAGE and BACK ON STAGE II (QUARANTINED!) were screened in cinemas. The persevering spirit of this orchestra, refusing to stop performing in spite of the circumstances, moved me, so I decided to invite them to co-curate Life is Art Festival. The theme for this year's festival is the Latin saying "per aspera ad astra" (from the dust to the stars), from the opening film of the festival BACK ON STAGE III: DESTINY, and emphasizes destiny and hope. As we look forward to the sunrise, let's enjoy all the glittering stars shining upon the city."
Hong Kong Sinfonietta Chief Executive Officer Margaret Yang:
"We are extremely excited to be joining the Life is Art Festival 2021 this Summer as co-presenter. Compared to all the projects the orchestra has done in the last 21 years, this is definitely one of the most challenging yet fascinating collaborations to date, as we join MOViE MOViE to curate a film festival for the first time! We hope you will enjoy our home-made productions as well as our choices of favourite classics!"
In Conversation with MOViE MOViE MOVER
In addition to film screenings, the exclusive program In Conversation with MMMOVER invites speakers from various creative industries to share their intimate experience with art – local singers, conductors, composers, multimedia artists, and movie directors. The speakers announced so far include:
Yip Wing-sie (Music Director Emeritus, Hong Kong Sinfonietta) & Margaret Yang (Chief Executive Officer, Hong Kong Sinfonietta)
Leon Ko (Film / Musical Composer)
Samson Young (Composer/Multi-disciplinary Artist)
Serrini (Hong Kong independent musician)
HKWALLS – Jason Dembski X Maria Wong
BAD ACTING – Olivia Yan (Renowned playwright, director, actress, teacher and writer)
Enable Foundation – Dr Yanki Lee and Ire Tsui
Happy Kongner – Micah
Key Image Design
The key image of Life is Art 2021 is designed by Hong Kong artist Don Mak.
"Unlike previous collaborations with other brands, we have the chance to be experimental with the colours and composition of the poster," said Don, who is pleased with the outcome of the design. "Looking at the list of movies, I can't help but recall that line from Hannah Arendt's Men in Dark Times, 'that even in the darkest of times we have the right to expect some illumination, and that such illumination might well come less from theories and concepts than from the uncertain, flickering, and often weak light that some men and women, in their lives and their works, will kindle under almost all circumstances and shed over the time span that was given to them,'" added Don, admitting that he has drawn inspiration from the book.

MOViE MOViE【Life is Art 2021】 is proudly supported by Chevalier Group.
Tickets are now on sale at cinema.com.hk as well as all Broadway Circuit cinemas. Check the MOViE MOViE Facebook page for more information.
MOViE MOViE (Now TV Ch 116) and MOViE MOViE PLAY (Now E)
MOViE MOViE channel (Now TV Ch 116) and OTT service MOViE MOViE PLAY (Now E) echoes the festivities by offering a wide variety of films, including AMY, RYUICHI SAKAMOTO: ASYNC AT THE PARK AVENUE ARMORY, NEVER LOOK AWAY, KUSAMA- INFINITY, JEAN PAUL GAULTIER: FREAK & CHIC, THE LAST STITCH, CITIZEN JANE: BATTLE FOR THE CITY, THE WORLD OF JACQUES DEMY, BELTRACCHI: THE ART OF FORGERY, and many more!
Download High-res Film Stills, Posters & trailers: https://drive.google.com/drive/folders/13dRrInxQXK5_e9JPQ7ULHPfjPGc2Auq2?usp=sharing
About MOViE MOViE
MOViE MOViE cinemas are managed by Broadway Circuit. Launched as an international movie channel (NowTV ch116) to bring the finest global hits and festival gems into the home, the innovative lifestyle-driven MOViE MOViE concept has expanded to Pacific Place, providing an all-around movie-viewing experience. MOViE MOViE PLAY on Now E, our OTT viewing platform, helps you experience the joy of cinema anywhere.
Website: www.moviemovie.com.hk | Facebook: MOViE MOViE
About HONG KONG SINFONIETTA
Music Director Emeritus: Yip Wing-sie
Principal Guest Conductor: Christoph Poppen
One of Hong Kong's flagship orchestras, Hong Kong Sinfonietta has achieved significant local and international recognition for its passionate performances and innovative programming. Since 1999, Hong Kong Sinfonietta has collaborated with an illustrious array of international musicians and groups, toured 41 cities around the world and made appearances at major international music festivals. As an avid believer of keeping music alive and contemporary, the orchestra frequently commissions new works and ventures into crossover initiatives, recently receiving wide acclaim for its ground-breaking concert films Back On Stage and Back On Stage II (Quarantined!), which landed in MOViE MOViE Cinemas and Broadway Circuit.
Download Press Release
Media Enquiry
Amanda Mok
Senior Marketing & Development Manager, Hong Kong Sinfonietta
Email: amanda.mok@hksinfonietta.org
Direct Line: +852 3607 2328