For immediate release
22 July 2021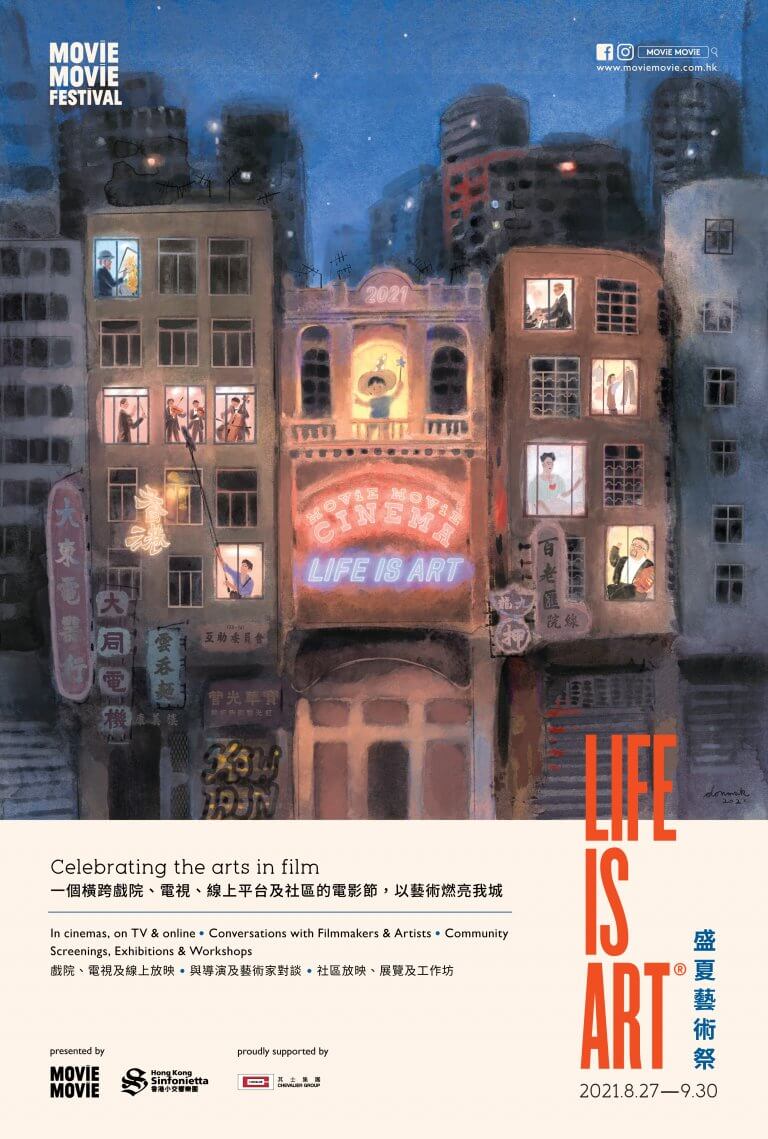 MOViE MOViE Festival【Life is Art 2021】returns! In 2021, MOViE MOViE is collaborating with Hong Kong Sinfonietta for the first time to present a film festival with a special musical twist! This unique art and film festival arrives at MOViE MOViE Pacific Place, MOViE MOViE Cityplaza, and Broadway Circuit, presenting more than 20 films about legendary artists and their ground-breaking achievements. Audiences can lose themselves in the wonderful aesthetics of music, fashion, painting, architecture, and theatre, as well as explore an array of multi-cultural events and workshops, spanning cinema, television, and the community.
In Cinemas
【Life is Art 2021】 opens with the world premiere of Hong Kong Sinfonietta's BACK ON STAGE III: DESTINY, featuring three works relating to fate, including Beethoven's Symphony no.5 "Fate" and Shostakovich's cello concerto no.1. The closing film, also a world premiere, features internationally renowned musicians playing in Sham Shui Po to create an ALL-STAR TINY GALAXY @ WONTONMEEN.
Other premieres include: VIVE LA MUSIQUE! showing the mesmerizing interaction of chamber music-making; multi-disciplinary artist/composer Samson Young's MUTED SITUATION #22 : MUTED TCHAIKOVSKY'S 5TH – an art-installation turned "performance" in "silence"; from the composer of AD ASTRA, MAX RICHTER'S  SLEEP shows how the "sleep experiment" was made with his special "music";  EXHIBITION ON SCREEN: SUNFLOWERS takes you through Van Gogh's different sunflower paintings; BOTERO introduces one of the most important artists of today, Fernando Botero, whose voluptuous art is more than meets the eye; RE-FASHIONED is a local documentary calling for a sustainable environment through upcycling clothing.
This year's classics & encores include: FANTASIA – the original 1940 animated classic, which mixes Disney's iconic animation with seminal examples of symphonic music;  EXHIBITION ON SCREEN: FRIDA KAHLO provides a fascinating insight into the legendary artist; MAKING WAVES: THE ART OF CINEMATIC SOUND shows us how sound effects are made "behind the screens"; Oscar-winning PETER AND THE WOLF is a timeless example of stop-motion animation; and last but not least, Hong Kong Sinfonietta concert films BACK ON STAGE and BACK ON STAGE II (QUARANTINED!) return, following more than 20 sold out screenings earlier this year!
MOViE MOViE General Manager Joycelyn Choi:
"MOViE MOViE and Hong Kong Sinfonietta were connected because of Covid. During the closure of City Hall Concert Hall, Hong Kong Sinfonietta's BACK ON STAGE and BACK ON STAGE II (QUARANTINED!) were screened in cinemas. The persevering spirit of this orchestra, refusing to stop performing in spite of the circumstances, moved me, so I decided to invite them to co-curate Life is Art Festival. The theme for this year's festival is the Latin saying Per aspera ad astra (from the dust to the stars), from the opening film of the festival BACK ON STAGE III: DESTINY, and emphasizes destiny and hope. As we look forward to the sunrise, let's enjoy all the glittering stars shining upon the city."
Hong Kong Sinfonietta Chief Executive Officer Margaret Yang:
"We are extremely excited to be joining the Life is Art Festival 2021 this Summer as co-presenter. Compared to all the projects the orchestra has done in the last 21 years, this is definitely one of the most challenging yet fascinating collaborations to date, as we join MOViE MOViE to curate a film festival for the first time! We hope you will enjoy our home-made productions as well as our choices of favourite classics!"
TV & Online
MOViE MOViE (Now TV Ch 116) and MOViE MOViE PLAY (Now E)
Enjoy selected films about the arts at home on MOViE MOViE channel (Now TV ch116) and MOViE MOViE PLAY (Now E), including AMY, RYUICHI SAKAMOTO: ASYNC AT THE PARK AVENUE ARMORY, NEVER LOOK AWAY, KUSAMA- INFINITY, JEAN PAUL GAULTIER: FREAK & CHIC, THE LAST STITCH, CITIZEN JANE: BATTLE FOR THE CITY, THE WORLD OF JACQUES DEMY, BELTRACCHI: THE ART OF FORGERY, and many more!
In Conversation with MMMOVER
At【Life is Art 2021】, we are delighted to host 11 inspirational MOViE MOViE MOVERS – who have made a difference to our city with their artistry and creativity:
Serrini (Hong Kong independent musician)
Yip Wing-sie (Music Director Emeritus, Hong Kong Sinfonietta) & Margaret Yang (Chief Executive Officer, Hong Kong Sinfonietta)
Samson Young (Composer/Multi-disciplinary Artist)
Leon Ko (Film / Musical Composer)
BAD ACTING – Olivia Yan (Renowned playwright, director, actress, teacher and writer)
Enable Foundation – Dr Yanki Lee and Ire Tsui
HKWALLS – Jason Dembski X Maria Wong
Happy Kongner – Micah
They will be sharing – through intimate talks and cultural events – about themselves, their growth, their creative process – and other aspects of art!
Key Image design
The key image for 【Life is Art 2021】 is designed by Hong Kong artist Don Mak.  The inspiration for his drawing comes from Per aspera ad astra, which also runs as a theme in the festival – where the featured characters in this year's film selections are illuminated by the light of the silver screen and the stars above.
Theme for 【Life is Art 2021】
The Latin phrase Per aspera ad astra literally means "from the dust to the stars".  The festival hopes to bring brightness and hope (stars) to the audience through music and the arts.

MOViE MOViE【Life is Art 2021】 is proudly supported by Chevalier Group.
Tickets will go on sale at cinema.com.hk and Broadway cinemas from 30 July 2021. Please check the MOViE MOViE Facebook Page for more information.
About MOViE MOViE
MOViE MOViE cinemas are managed by Broadway Circuit. Launched as an international movie channel (NowTV ch116) to bring the finest global hits and festival gems into the home, the innovative lifestyle-driven MOViE MOViE concept has expanded to Pacific Place, providing an all-around movie-viewing experience. MOViE MOViE PLAY on Now E, our OTT viewing platform, helps you experience the joy of cinema anywhere.
Website: www.moviemovie.com.hk | Facebook: MOViE MOViE
About HONG KONG SINFONIETTA
Music Director Emeritus: Yip Wing-sie
Principal Guest Conductor: Christoph Poppen
One of Hong Kong's flagship orchestras, Hong Kong Sinfonietta has achieved significant local and international recognition for its passionate performances and innovative programming. Since 1999, Hong Kong Sinfonietta has collaborated with an illustrious array of international musicians and groups, toured 41 cities around the world and made appearances at major international music festivals. As an avid believer of keeping music alive and contemporary, the orchestra frequently commissions new works and ventures into crossover initiatives, recently receiving wide acclaim for its ground-breaking concert films Back On Stage and Back On Stage II (Quarantined!), which landed in MOViE MOViE Cinemas and Broadway Circuit.
Download Press Release
Media Enquiry
Amanda Mok
Senior Marketing & Development Manager, Hong Kong Sinfonietta
Email: amanda.mok@hksinfonietta.org
Direct Line: +852 3607 2328