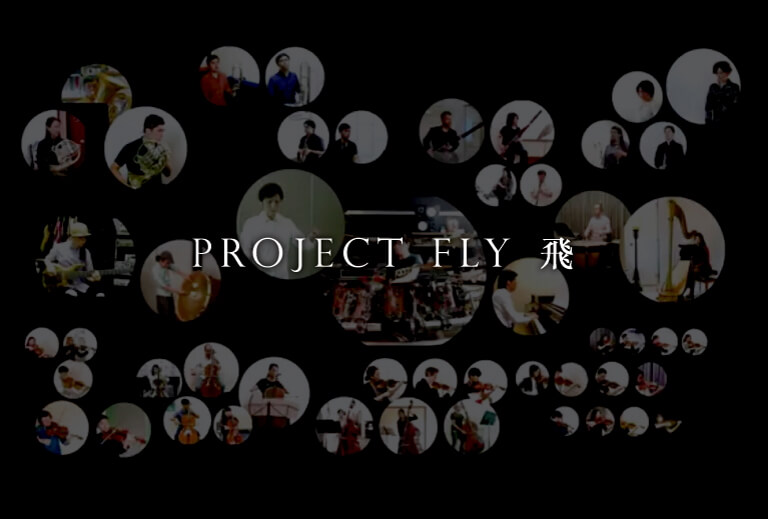 Project FLY
"To FLY is to capture peace amidst uncertainty."– Ng Cheuk-yin
Originally commissioned by Hong Kong Sinfonietta in 2007, local composer Ng Cheuk-yin's cross-genre creation Fly sees an exciting online revival 13 years after its première, taking the new name Project FLY. Young Japanese drumming sensation Senri Kawaguchi joins as the soloist, while the orchestra welcomes the addition of several internationally renowned instrumentalists, including French flautist Juliette Hurel (Principal Flute of the Rotterdam Philharmonic Orchestra) and violist Adrien La Marca, Spanish oboist Ramón Ortega Quero (Principal Oboe of the Bavarian Radio Symphony Orchestra), and German bassoonist Matthias Rácz (Principal Bassoon of the Tonhalle Orchester Zürich). Under the baton of Music Director Emeritus Yip Wing-sie, this bold endeavour promises a spectacle that soars high above conventions and limitations.
Project FLY
YouTube: https://bit.ly/2ylmMh9
---
Ng Cheuk-yin                                                                                                    Composer
Composer, music producer, sheng performer and a cappella artist Ng Cheuk-yin is Hong Kong Sinfonietta's first Artist Associate (2006-2008), Music Director of fusion group SIU2 and Artistic Director of a cappella theatre company Yat Po Singers. His compositions range from chamber and orchestral works to electronic music, from rock music to musicals, from choral works to pop songs and music for crossover bands and ensembles. He has worked closely with Hong Kong Sinfonietta on many projects, including commissions such as the double sheng concerto Before the City Collapses (2013), FLY (2007) and White (2004). Ng received the "Best Serious Composition" awards at the 2009 and 2013 CASH Golden Sail Music Awards, and won the "My Favourite Song" award at the Ultimate Song Chart Awards 2018 for A Centennial Tree.
Senri Kawaguchi                                                                                               Percussion
Praised as the "Tekazuhime" (Princess of Many Strokes) for her extraordinary skills and panache, Senri Kawaguchi started playing the drums at the age of 5. Now at the age of 23, her drumming videos on YouTube have gathered over 40 billion views, and she was featured on the prestigious Drummerworld website as one of the World's Top 500 Drummers. In 2017, she performed with the legendary saxophonist David Sanborn in Tokyo.
Hong Kong Sinfonietta
Music Director Emeritus: Yip Wing-sie
Principal Guest Conductor: Christoph Poppen
One of Hong Kong's flagship orchestras, Hong Kong Sinfonietta has brought music closer to the community, and achieved significant local and international recognition for its passionate performances and innovative programming. Since 1999, Hong Kong Sinfonietta has collaborated with an illustrious array of international musicians and groups, including in recent years Nicolas Altstaedt, Ilya Gringolts, Martin Helmchen, Sergei Nakariakov, Jean-Guihen Queyras, Krzysztof Penderecki, Fazıl Say, Mariinsky Ballet, English National Ballet, American Ballet Theatre etc. Apart from standard orchestral repertoire, Hong Kong Sinfonietta – as an avid believer of keeping music alive and contemporary – commissions and performs new works every year and ventures into crossover concerts. The orchestra has toured more than 40 cities around the world and appeared in many prominent art and music festivals. In 2018, the orchestra organised the 1st Hong Kong International Conducting Competition. Since 2002, Hong Kong Sinfonietta has thrived under the direction of Music Director Yip Wing-sie – one of Asia's most respected conductors. Starting from May 2020, she takes on the new role of Music Director Emeritus. Principal Guest Conductor Christoph Poppen will be responsible for the artistic development of the orchestra before the next Music Director is appointed.
Download Press Release
Media Enquiry
Amanda Mok
Senior Marketing & Development Manager, Hong Kong Sinfonietta
Email: amanda.mok@hksinfonietta.org
Direct Line: +852 3607 2328