Colleen Lee
Piano / HKS Artist Associate 2010-2011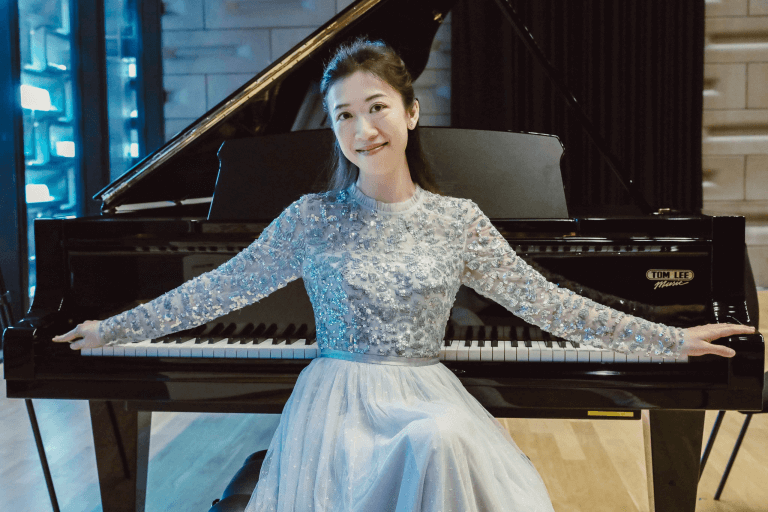 Since winning the 6th Prize at the 15th International Frederic Chopin Piano Competition, Colleen Lee has performed extensively throughout Asia, Europe and North America in solo recitals and with orchestras such as the Israel Philharmonic Orchestra, Warsaw Philharmonic Orchestra, Galacia Royal Philharmonic Orchestra, Sendai Philharmonic Orchestra, China Philharmonic Orchestra, Guangzhou Symphony Orchestra, Wuhan Philharmonic Orchestra, Shanghai Symphony Orchestra, Hong Kong Sinfonietta and Hong Kong Philharmonic, among others. Lee was the Artist Associate of Hong Kong Sinfonietta in 2010/2011, and has toured with the orchestra in South America, Italy and Taiwan. This season, she will make multiple appearances alongside leading international artists in the brand new HKS Recital Series, as well as present in September the world première of Charles Kwong's Piano Concerto, commissioned by Hong Kong Sinfonietta. In November, she will perform with the orchestra in Shenzhen at China's largest outdoor music festival, under the baton of Music Director Emeritus Yip Wing-sie.
She has also been a featured artist at several international music festivals including the International Chopin Festival in Duszniki and Gdansk in Poland, Assisi International Piano Festival in Italy, Meissen Pianoforte Festival in Germany, International Keyboard Festival in New York, Bowdoin International Music Festival and Musicus Fest in Espoo, Finland. Her performance of the "Magic Piano and Chopin Shorts" animation series at the 42nd Hong Kong Arts Festival had garnered rave review.  She was invited to perform twice in the "Beethoven Piano Sonatas Marathon" in Vienna and Hong Kong. She appeared as soloist with the Hong Kong New Music Ensemble in the 2018 Shanghai New Music Week. In 2019, she made her début with London Symphony Orchestra under Simon Rattle.
As an enthusiastic chamber musician, Lee frequently appears in chamber music concerts and has also collaborated with world-famous instrumentalists including violinists Ning Feng and Kang Dong-suk, cellists Trey Lee, Daniel Müller-Schott and Alexander Kniazev, trumpet virtuoso Sergei Nakariakov, and the Shanghai Quartet. She is also a member of the RTHK Chamber Soloists which was formed in 2018.
Born in Hong Kong, Lee started her piano lessons at the age of four.  Subsequently she was trained at the Hong Kong Academy for Performing Arts (HKAPA) under Eleanor Wong and at the Hochschule für Musik, Theater und Medien in Hannover with Arie Vardi. She won the First Prize at the 3rd Seiler International Piano Competition in Kitzingen, Germany, the 2003 Dorothy Mackenzie Artist Recognition Award, Third Place and Critic and Audience Prizes at the 15th International Competition for Piano and Orchestra in Cantú, Italy, and was a prize winner at the 1st Hong Kong International Piano Competition, the Pro Musicis International Award, Gina Bachauer International Artist Competition, Sendai International Music Competition, and the 16th Santander International Piano Competition in Spain.
Lee's discography includes an all-Chopin album recorded on the Pleyel Piano released by the Fryderyk Chopin Institute, and a complete Scarlatti Sonatas album by Naxos. She was also featured on the Hong Kong Sinfonietta DECCA album This is Classical Music 3.
In recognition of Lee's outstanding achievements in music and in the promotion of arts and culture, she has been awarded Certificate of Commendation by the Secretary of Home Affairs, Commendation for Community Service by the Hong Kong Government and Young Artist Award by the Hong Kong Arts Development Council.
Currently Lee is the Honorary-Artist-in-Residence of The Education University of Hong Kong and on the piano faculty of HKAPA and Hong Kong Baptist University.
Concerts featuring Colleen Lee in the 2023/2024 Season
19.4.2023 (Wed)
DOUBLE ACTs
HKS Recital Series
Raphaël Sévère & Adrien La Marca
1.9.2023 (Fri) 
Colleen Lee & Hong Kong Sinfonietta
19.9 & 14.11.2023 (Tue)
Panasonic proudly sponsors
Good Music This Lunch
19.10.2023 (Thu)
DOUBLE ACTs
HKS Recital Series
Veronika Eberle Violin Recital
10.11.2023 (Fri)
The Lian Hua Shan Glades Music Festival, Shenzhen
10.1.2024 (Wed)
DOUBLE ACTs
HKS Recital Series
Duo Recital by
Sergei Nakariakov & Gábor Boldoczki
click to download images