CHAN Hing-yan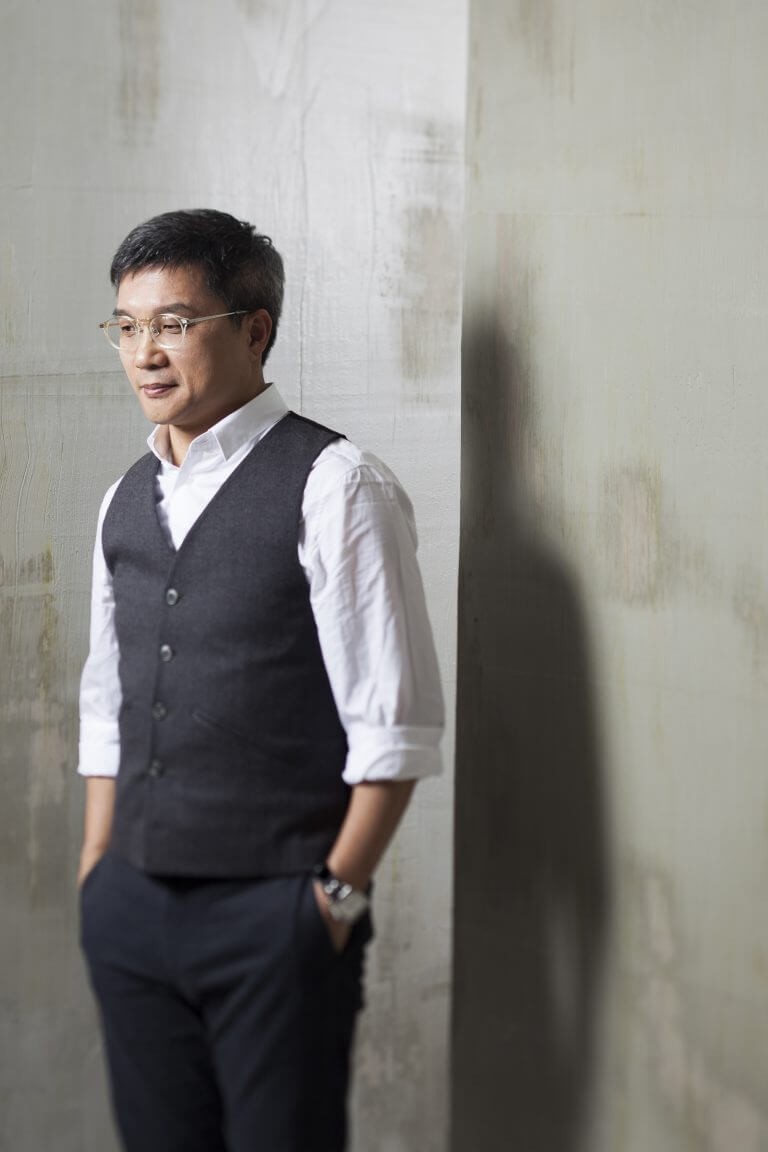 Currently Professor of Music at The University of Hong Kong, HKS Artist Associate Chan Hing-yan (2016-2018) is no stranger to Hong Kong Sinfonietta audience as the orchestra has commissioned and performed his works at home and abroad in Europe, South America, Canada, New York, Taiwan, Beijing and Shanghai.  Lauded for their subtle incorporation of Chinese elements, his compositions have been heard around the world at festivals such as Edinburgh International Festival, Melbourne Festival, Singapore Arts Festival, the Second Spring of the Chinese Symphony in Beijing, Hong Kong Arts Festival, Hong Kong Week in Taipei and music festivals in Amsterdam, Budapest and Canberra.
Recent works include, commissioned by Hong Kong Sinfonietta, Ethereal Is the Moon – for Huqin and Orchestra (2016, for Taiwan tour) and 'Twas the Thawing Wind – for Sheng and Orchestra (2012, for North American tour); Double Happiness – A Gastronomic Suite on libretto by Mak Su-yin (HKS Artist Associate 2014/2015) premiered at the Festival Finale of the 2017 Canberra International Music Festival; commissioned by Hong Kong Arts Festival, Hong Kong Odyssey (2017, as Music Director and composer) and two three-act chamber operas Datong – the Chinese Utopia (2015) and Heart of Coral – After the Life of Xiao Hong (2013); and Hark the Phoenix Solitaire Cry – for Sheng and Orchestra (2016) premiered by Orchestra UniMi in Milan.
For Heart of Coral and 'Twas the Thawing Wind, Chan received the "Best Artist Award (Music)" at Hong Kong Arts Development Awards 2013. His three collaborations with City Contemporary Dance Company – The Conqueror (2005), Warrior Lanling (2007) and Dao Extraordinaire (2009) – have won him much acclaim as well as a Hong Kong Dance Award in 2008, where he also received commendation for "Persons with Outstanding Contributions to the Development of Arts and Culture" in the Secretary for Home Affairs' Commendation Scheme.
November Leonids (2017)
for Orchestra
2 2 2 2 – 2 2 2 0 – tmp+2 – hp – str
perc: tam-tam, gong, shell/glass chimes, tri, sus cym, tambn, crot, wind chimes, vib, glock
Commissioned by Hong Kong Sinfonietta with sponsorship from CASH Music Fund

18 November 2017 WORLD PREMIÈRE
Hong Kong Sinfonietta | Conductor: YIP Wing-sie
Concert Hall, Hong Kong City Hall
Other Performances:
14 January 2018
Hong Kong Sinfonietta | Conductor: Gabor Kali
Concert Hall, Hong Kong City Hall
Hark the Phoenix Solitaire Cry (ver. 2017)
for Sheng and Orchestra
solo sheng
pic 2 0 2 – 2 2 0 0 – 1perc –  str
perc: tmp, bongo
New version commissioned by Hong Kong Sinfonietta

20 May 2017 WORLD PREMIÈRE
Hong Kong Sinfonietta | Conductor: YIP Wing-sie | Sheng: LOO Sze-wang
Concert Hall, Hong Kong City Hall
Ethereal Is the Moon (2016)
for Erhu and Orchestra
solo erhu
2(1.2/pic) 2 2 2 – 4 2 3 0 – 3perc – str
perc: tmp, woodblks, vib, almglock, sus cym, cym, crot, tambn, tri, sd, bd, tam-tam, whip
Commissioned by Hong Kong Sinfonietta with sponsorship from CASH Music Fund

18 November 2016 WORLD PREMIÈRE
Hong Kong Sinfonietta | Conductor: YIP Wing-sie | Huqin: WANG Ying-chieh
Taipei Zhongshan Hall Zhongzheng Auditorium
Other Performances:
20 November 2016 KAOHSIUNG PREMIÈRE
Hong Kong Sinfonietta | Conductor: YIP Wing-sie | Huqin: WANG Ying-chieh
Kaohsiung City Dadong Arts Center Performance Hall
12 March 2017 HONG KONG PREMIÈRE
Hong Kong Sinfonietta | Conductor: YIP Wing-sie | Huqin: WANG Ying-chieh
Concert Hall, Hong Kong City Hall
'Twas the Thawing Wind (2012)
for Sheng and Orchestra
solo sheng
2(1.2/pic) 2 2 2 – 2 2 1 0 – 2perc – str
perc: tmp, bd, whip, tri, tambn, flexatone, claves, maracas, sleigh bells, peking opera gong, Japanese temple bowls, finger cym, tibetan finger cym, tibetan prayer stones
Commissioned by Hong Kong Sinfonietta with sponsorship from CASH Music Fund

22 September 2012 WORLD PREMIÈRE
Hong Kong Sinfonietta | Conductor: YIP Wing-sie | Sheng: LOO Sze-wang
Concert Hall, Hong Kong City Hall
Other Performances:
28 September 2012 NORTH AMERICA PREMIÈRE
Hong Kong Sinfonietta | Conductor: YIP Wing-sie | Sheng: LOO Sze-wang
Chan Centre for the Performing Arts, University of British Columbia, Vancouver
1 October 2012 CALGARY PREMIÈRE
Hong Kong Sinfonietta | Conductor: YIP Wing-sie | Sheng: LOO Sze-wang
Jack Singer Concert Hall, Calgary
4 October 2012 TORONTO PREMIÈRE
Hong Kong Sinfonietta | Conductor: YIP Wing-sie | Sheng: LOO Sze-wang
Koerner Hall, Toronto
7 October 2012 U.S. PREMIÈRE
Hong Kong Sinfonietta | Conductor: YIP Wing-sie | Sheng: LOO Sze-wang
Rose Theater, Jazz at Lincoln Center's Frederick P. Rose Hall, New York City
8 October 2012 MONTRÉAL PREMIÈRE
Hong Kong Sinfonietta | Conductor: YIP Wing-sie | Sheng: LOO Sze-wang
Maison symphonique, Place des Arts, Montréal
Hark the Phoenix Soaring High (2010)
for Sheng and Orchestra
solo sheng
2(1.2/pic) 2 2 2 – 4 2 3 0 – 3perc – str
perc: tmp, vib, crot, tri, glock, tam-tam, whip, peking opera cym, windwhstl, thunder, slidewhstl, sleigh bells, claves, finger cym, toy cicada, cym, shaker, sus cym, bell tree
Commissioned by Hong Kong Sinfonietta with sponsorship from CASH Music Fund

16 April 2010 WORLD PREMIÈRE
Hong Kong Sinfonietta | Conductor: YIP Wing-sie | Sheng: LOO Sze-wang
Concert Hall, Hong Kong City Hall
Other Performances:
17 April 2010
Hong Kong Sinfonietta | Conductor: YIP Wing-sie | Sheng: LOO Sze-wang
Concert Hall, Hong Kong City Hall
23 April 2010 BEIJING PREMIÈRE 
Hong Kong Sinfonietta | Conductor: YIP Wing-sie | Sheng: LOO Sze-wang
National Centre for the Performing Arts, Beijing
12 August 2010 SOUTH AMERICAN PREMIÈRE 
Hong Kong Sinfonietta | Conductor: YIP Wing-sie | Sheng: LOO Sze-wang
Theatro Municipal do Rio de Janeiro
14 August 2010
Hong Kong Sinfonietta | Conductor: YIP Wing-sie | Sheng: LOO Sze-wang
Sala São Paulo
There's Something in the Wind … (2005)
for Orchestra and Two Chinese-wind Soloists
solo dizi, solo sheng
2(1.2/pic) 2(1.2/Eh) 2 2 – 2 1 1 0 – 2perc – str
perc: claves, sus cym, tri, crot, flexatone, bongo, whip, peking opera clapper drum, tambn, cast, vib
Commissioned by Hong Kong Sinfonietta with sponsorship from CASH Music Fund
4 August 2005 WORLD PREMIÈRE
Hong Kong Sinfonietta | Conductor: YIP Wing-sie | Dizi: CHU Siu-wai | Sheng: LOO Sze-wang
Concert Hall, Hong Kong City Hall
Other Performances:
6 August 2005 EUROPEAN PREMIÈRE
Hong Kong Sinfonietta | Conductor: YIP Wing-sie | Dizi: CHU Siu-wai | Sheng: LOO Sze-wang
Salle Royale, Reims Champagne Congrès
6 May 2007 SHANGHAI PREMIÈRE
Hong Kong Sinfonietta | Conductor: YIP Wing-sie | Dizi: CHU Siu-wai | Sheng: LOO Sze-wang
Shanghai Oriental Arts Center
25 November 2007
Hong Kong Sinfonietta | Conductor: René GULIKERS | Dizi: CHU Siu-wai | Sheng: LOO Sze-wang
Concert Hall, Hong Kong City Hall
Madame Cadavre (2001)
for Violin and Orchestra
solo vln
2(1.2/pic) 2(1.2/Eh) 2(1.2/bcl) 2(1.2/cbn) – 1 2 1 0 – hp – tmp+2 – str
perc: glock, vib, whip, bongos, tri(3), sus cym(4), chimes, cast, flexatone, marim, woodblks(5), tam-tam(2), maracas, bd, tambn(2), metallic windchimes, bamboo windchimes
Commissioned by Hong Kong Sinfonietta with sponsorship from CASH Music Fund

24 February 2001 WORLD PREMIÈRE
Hong Kong Sinfonietta | Conductor: YEH Tsung | Violin: Lily KOH
Auditorium, Kwai Tsing Theatre
Other performance:
1 June 2004 EUROPEAN PREMIÈRE
Ensemble orchestral de Paris | Conductor: John NELSON | Violin: Marina CHICHE
Théâtre des Champs-Elysées, Paris
Enigmas of the Moon (1998)
for Huqin, Cello and Orchestra
Commissioned by Hong Kong Sinfonietta

24 July 1998 WORLD PREMIÈRE
Hong Kong Sinfonietta | Conductor: CHEN Zhohuang | Huqin: WONG Sun-tat | Cello: Wendy LAW
Auditorium, Sha Tin Town Hall