Making music again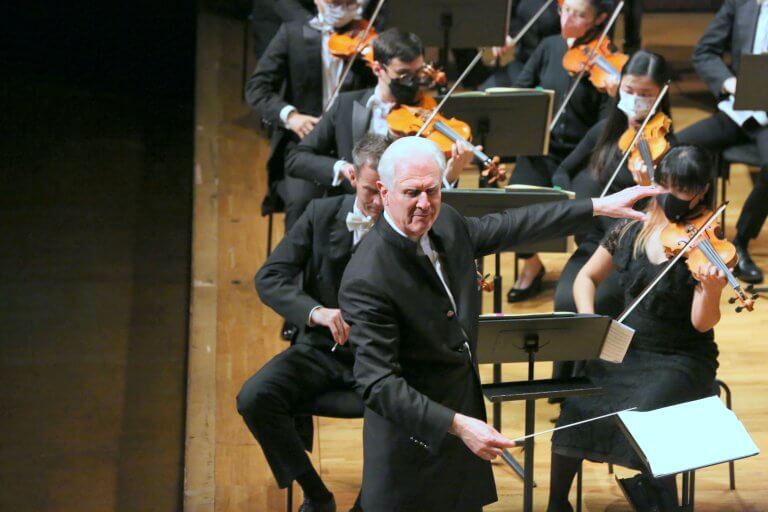 My journey with the Hong Kong Sinfonietta started in 2015, as Principal Guest Conductor – and I am very honoured to be named Music Director starting 2023. The years between 2020 and 2022 seemed somewhat surreal, with 10-hour waits at the airport, quarantines at the hotel, empty restaurants, and when concerts were possible, I was peering over the mask, looking only at the eyes of the musicians…it was a difficult three years for the orchestra, but we managed to pull through. During this dark period, not only did we produce some wonderful films together (Back On Stage II and III, All-Star Tiny Galaxy@Wontonmeen) which were screened at cinemas and even at a film festival, we were also able to fill seats at the concerts whenever there was a gap in the restrictions and we were allowed to perform. My total admiration goes to Yip Wing-sie, who basically covered most of the concerts when guest conductors were not able to fly in. And of course the musicians of the orchestra, who continued to work tirelessly between the closures. And not forgetting my utmost appreciation to the administrative staff at the Hong Kong Sinfonietta office, which to my knowledge, did not miss a day during the pandemic…making sure that nothing fell apart meanwhile, and indeed, we are now coming out the other end, not having lost a feather.
Looking at the new season in 2023/2024 which was put together in the hope that normality will resume, we will continue to broaden our boundaries. Along many other exciting programmes, we have invited the WDR Chorus (from Cologne) to perform with us Bach's Christmas Oratorio, and we will also be premiering in Asia William Kentridge's Oh, To Believe In Another World, which is a film that goes with Shostakovich's Symphony No 10. This season, we will also finally be on the road again – as we make our mark in Germany and Austria, as well as repeat visits to La Roque d'Anthéron International Piano Festival (France) and Marvão International Music Festival (Portugal).
I look forward to seeing you all at the concerts and to get to know each other better through the years!
Christoph Poppen
Music Director, Hong Kong Sinfonietta