Edicson Ruiz
Double Bass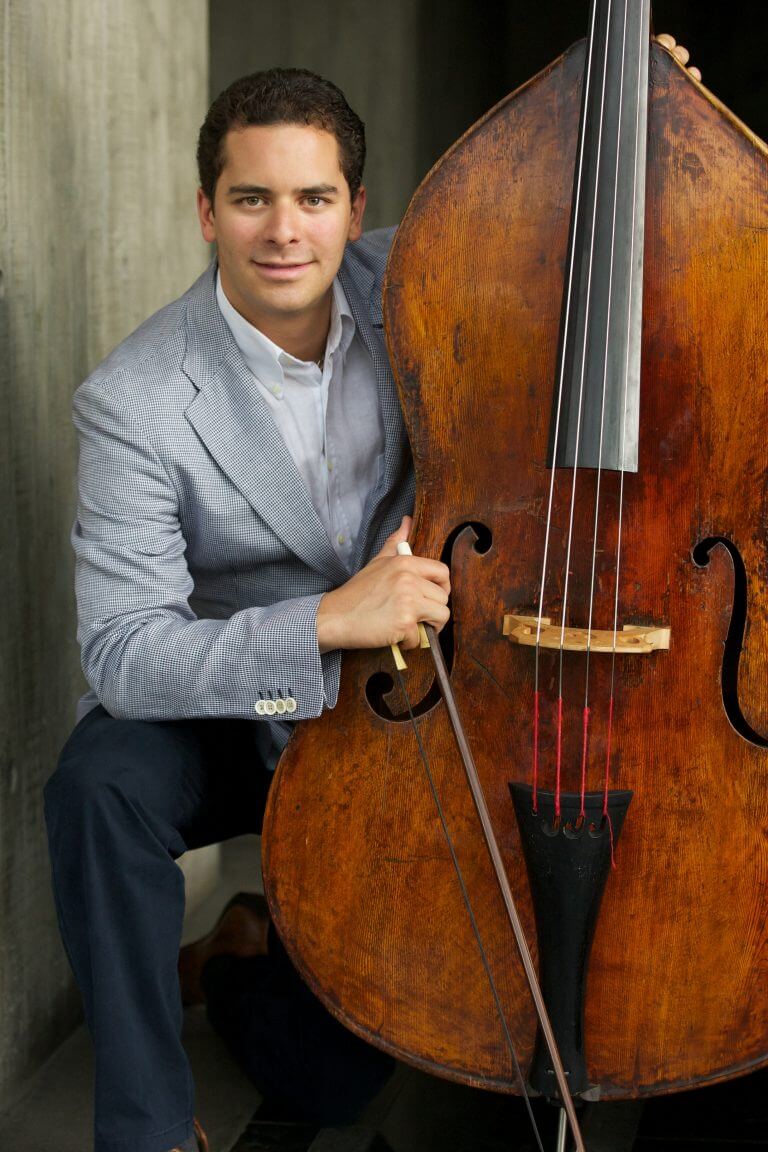 Edicson Ruiz is one of the most successful bass soloists of the present time and his virtuosity impresses audiences all over the world.
Born in Caracas in 1985, Ruiz decided to play the bass when he was 11 years old. His first teacher and mentor Felix Petit guided him through his studies in "El Sistema", the Venezuelan national youth orchestra foundation founded by José Antonio Abreu.
At the age of 15, Ruiz won the First Prize at the International Solo Bass Competition in Indianapolis, USA. Subsequently, he attended courses with Janne Saksala, and in 2001 became the youngest member of the Orchestra Academy of the Berlin Philharmonic, where he studied with Klaus Stoll. During the time at the Academy, Edicson Ruiz won a job at the Berlin Philharmonic.
Ruiz is a regular guest at festivals such as the Salzburg Festival, the Lucerne International Music Festival and the Warsaw Chopin Festival. He has given concerts in major metropolises such as New York, Berlin, Tokyo, Madrid, Zürich and Johannesburg. His chamber music activities have led him to close relationships with Anner Bylsma, György Kurtág, Heinz Holliger, Elliott Carter, Maurice Bourgue, Klaus Thunemann, Sabine Meyer, Yuri Bashmet, Christian Tetzlaff, Thomas Zehetmair, Gidon Kremer, Lars Vogt and Jörg Widmann.
Ruiz has also premiered numerous works written for him by composers such as Heinz Holliger, Rudolf Kelterborn, Paul Desenne, Efrain Oscher, Arturo Pantaleon, Matthias Ockert, Luis Antunes Pena, Dai Fujikura and Roland Moser.
Ruiz has recorded various CDs with Phil.Harmonie, which highlight his passion for the music of the 18th century. International television productions also bear witness to his versatile achievements. As guest professor, he has visited nearly all the most famous and prominent music conservatories and universities in the world, teaching his way to perform and make music.
Ruiz was granted the José Felix Ribas Prize in 2002 for his service to art and culture in Venezuela. In 2003, he was recognized as one of the "10 Outstanding Young People of Venezuela" by the Junior Chamber International. He also won the Golden Bow Prize awarded by The Violin Making School in Brienz, Switzerland in 2012; and was named "Honorable Guest of Paraguay" at the Asuncion City by the Government of Paraguay in 2013.
click to download images