Fayçal Karoui
Conductor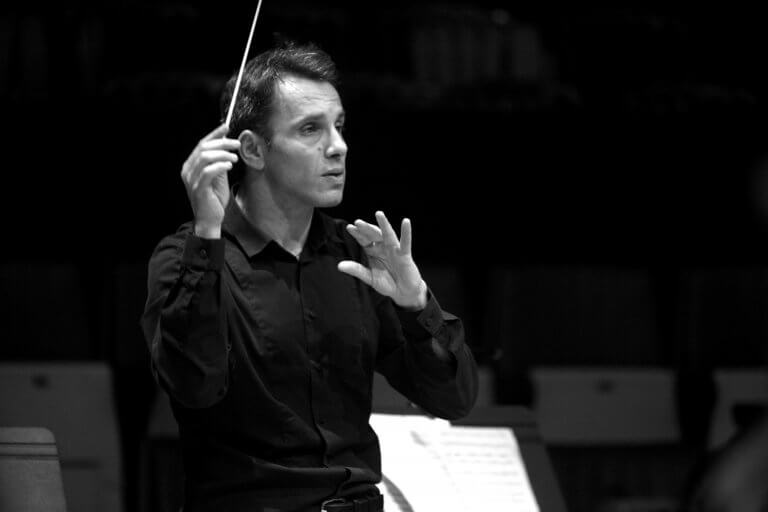 What strikes first about Fayçal Karoui besides his great artistic talent is his extraordinary natural dynamism and remarkable commitment in whatever he is taking up. That is how he managed in eighteen years to bring the Orchestre de Pau Pays de Bearn to the high level they are at now. This is also what made all critics and professionals in New York praise his impressive artistic work with the New York City Ballet Orchestra from 2006 to 2012 and this is then what he instilled to the Orchestre Lamoureux where he was music director from 2012 to 2014, taking over from Yutaka Sado. His talent and personality also convinced the Théâtre des Champs-Elysées's general manager to choose Fayçal Karoui and the Orchestre Lamoureux for his production of Fauré's Pénélope in 2013, with Roberto Alagna and Anna-Caterina Antonacci.
Fayçal Karoui has been invited to guest conduct such prestigious  orchestras as the Accademia di Santa Cecilia di Roma, the Orchestre Philharmonie de Radio-France, the Orchestre de Paris, the Orchestre National de France, the Orchestre de Chambre de Lausanne, the Orchestre Philharmonique de Monte-Carlo, the Orchestre National du Capitole de Toulouse, the Orchestre Philharmonique de Liège, the Orchestre Philharmonique de Strasbourg, the Orchestre de l'Opéra National de Paris, the Hong-Kong Sinfonietta, the New Japan Philharmonic, the Brussels Philharmonic or the Wiener Philharmoniker on several occasions for Ballets at the Vienna Staatsoper.
Between 2006 and 2012, Fayçal Karoui was music director of the New York City Ballet and was soon noticed by New York critics and professionals, unanimously praising his work there. The New York Times wrote in 2008 that "One of the best reasons for watching City Ballet these days is listening, especially when its music director, Fayçal Karoui, is conducting". Two years later the same paper wrote: "an important factor is the conducting of Fayçal Karoui: under his leadership, the sheer discipline of the company's orchestral playing has returned to pre-1990 levels". He has since then been invited by  some of the world's top ballet houses such as the Opera National de Paris, the Royal Dutch Ballet or Vienna's Staatsballett.
In Pau, where he has been music director since 2001, Fayçal Karoui also regularly commissions works and offers residencies to leading French composers. He has been extremely active in developing outreach projects and concerts to make music accessible to everyone. He and his dynamic team have managed to triple the number of subscribers in the last 5 years. He conducts a series of 15 yearly concerts, inviting international guest soloists such as Nelson Freire, Nicholas Angellich, Renaud Capuçon, Gautier Capuçon, Xavier de Maistre, Patricia Petibon, Beatrice Rana,  Natalia Gutman…
Just months after obtaining a First Prize in Conducting at the Conservatoire National Supérieur de Paris in J.S Bereau's class in 1997, Fayçal Karoui was granted the Aida scholarship which allowed him to work during the season with Michel Plasson and the Orchestre National du Capitole de Toulouse. In June 1998, Michel Plasson offered him to become his assistant. He has since then regularly collaborated with the Orchestre National du Capitole de Toulouse. In 1999 he was a prize winner at the Besançon International conducting competition.
click to download images