Igudesman & Joo
Violin & Piano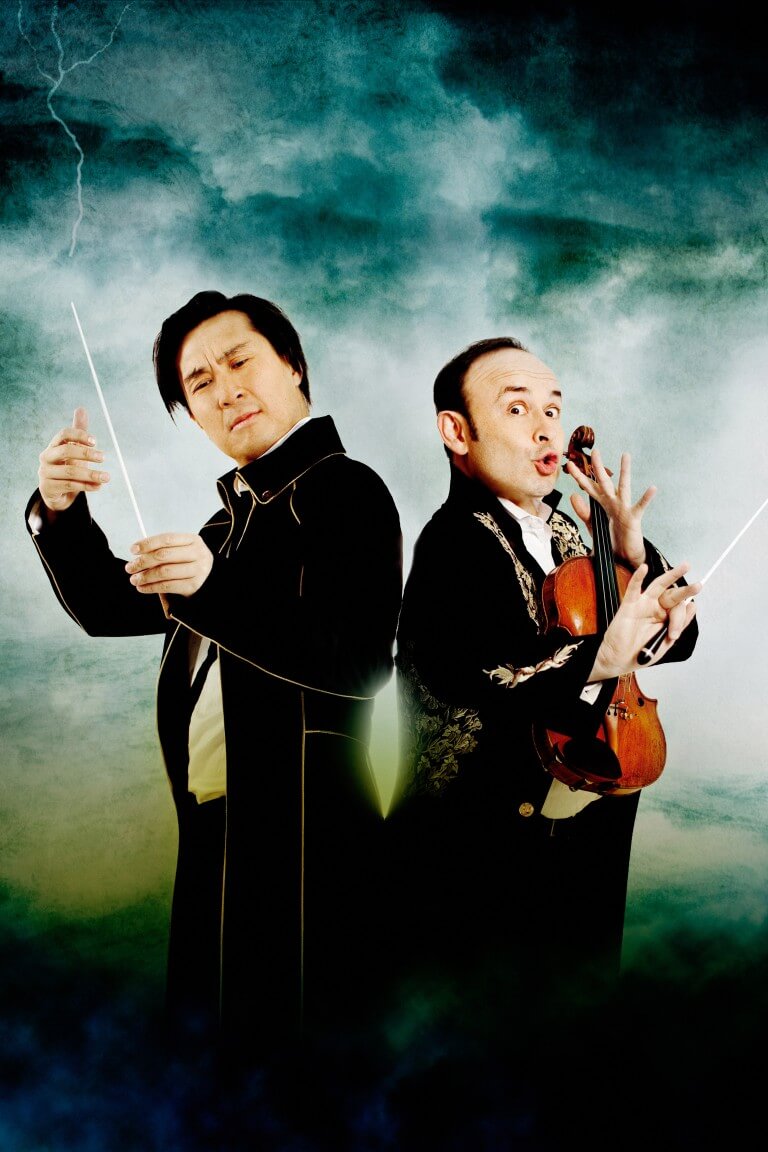 Nearly 40 million YouTube views and sold-out performances around the world have turned the inspired lunacy of musicians Igudesman & Joo into a global hit show. For them, the mix of music, comedy and theatre is its own art form.
Think Mozart hijacked by Monty Python, South Park meets Bach, and you have some idea of the mayhem created at the highest level of musicianship on worldwide stages by violinist Aleksey Igudesman and pianist Hyung-ki Joo, two classically-trained artists who are filling concert halls and stadiums with their uproarious approach to the concert performance. Their collective dream is to make classical music accessible to a wider and younger audience.
Like the musical humorists who have gone before them, they are brilliant performers whose technical expertise is as impressive as their comedic talents. They are inspired by not only by Victor Borge and PDQ Bach, but Matt Stone and Trey Parker of  "South Park" and "The Book of Mormon," Seth MacFarlane of "Family Guy," Monty Python, Oscar Wilde, Saturday Night Live alumni, Spike Jones, Shakespeare, Glenn Gould, and many others.
In October, they're embarking on the first leg of two huge multi-city 2015-2016 US tours with performances of their show And Now Mozart…which may or may not include any Mozart. It's typical Igudesman and Joo, several standard deviations from the classical norm.
In addition to their performances around the world, the duo are also passionate about their unique and unconventional workshops '8 to 88 – Musical Education for Children of All Ages', which is in huge demand at universities around the world. Their breakthrough music program, which includes a mini performance, encourages participants to loosen up and leave their inhibitions behind. They talk about things like theatricality, improvisation, choreography, psychology of performance, stage manner and presentation, different styles of music, classical and non-classical rhythm, composition, dramaturgy, humor and even how to walk out on stage.
Aleksey and Hyung-ki met at the age of twelve, at the Yehudi Menuhin School, in England, and since then, have remained strong friends and writing partners. In 2004, following in the footsteps of luminaries such as Victor Borge and Dudley Moore, they created "A Little Nightmare Music," their first groundbreaking show. Since then, they have performed with major symphony orchestras around the world and have played at some of the world's biggest stages and festivals.
Individually, Aleksey Igudesman has collaborated with musicians ranging from Academy® Award winning Hollywood composer, Hans Zimmer, to multi Grammy® Award winning vocalist, Bobby McFerrin.  Hyung-ki Joo, has worked with Academy® Award winning composer, Vangelis, and was chosen by Rock and Roll Hall of Fame inductee, Billy Joel, to arrange and record Joel's classical compositions on a CD, which reached no.1 on the Billboard Charts. Aleksey and Hyung-ki have also teamed up with the actor Roger Moore on several occasions for UNICEF projects.
In 2010, the German TV Broadcasting Channel, ZDF, aired Igudesman & Joo's documentary, or rather "Mockumentary," titled "Everything You Always Wanted to Know About Classical Music."
click to download images