Romain Leleu
Trumpet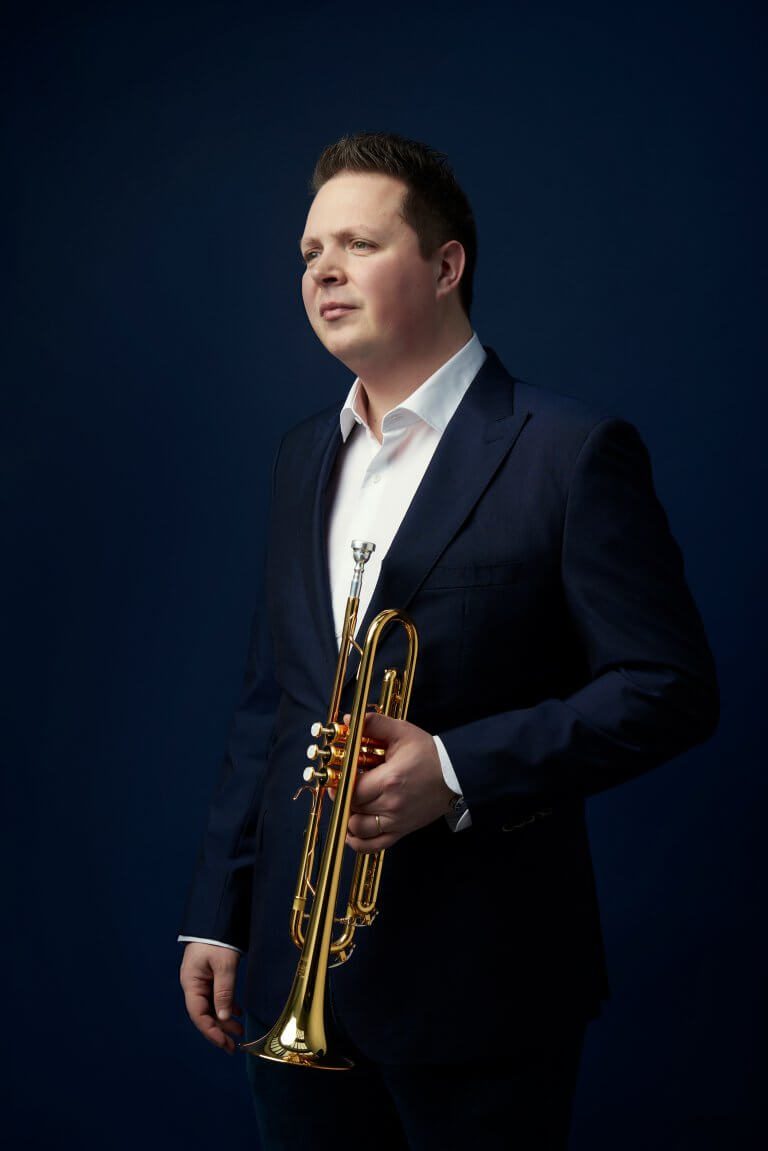 Praised for his radiant tone and brilliant technique, French trumpet player Romain Leleu is one of the most versatile artists on his instrument.
With a repertoire ranging from Baroque concertos to 21st-century works, Romain Leleu has appeared as soloist with the main French orchestras (Orchestre National de France, Orchestre Philharmonique de Radio France, Orchestre National de Lille, Orchestre National du Capitole de Toulouse) as well as in many European countries, North and South America, and Asia. He is a regular guest at leading festivals including the Colmar, La Roque d'Anthéron, Radio France Occitanie Montpellier, La Folle Journée (Nantes and Tokyo) and Seoul Spring festivals, and has performed at the Bucharest Athenaeum, Seoul Arts Center, Hermitage St Petersburg, Royal Albert Hall, Théâtre des Champs-Elysées and Philharmonie Luxembourg. He has premiered works by composers including Martín Matalon, Philippe Hersant, Karol Beffa, Jean-Baptiste Robin, Vincent Peirani and Baptiste Trotignon.
In 2022, Romain Leleu launched his album Move on the harmonia mundi label, paying tribute to major composers of film music. With stops to admire Nino Rota's The Godfather and Ennio Morricone's A Fistful of Dollars, or Miles Davis' Elevator to the Gallows and Michel Legrand's The Young Girls of Rochefort, he takes us on a cinematic journey in the company of stellar associates Ibrahim Maalouf, the Romain Leleu Sextet and Stuttgarter Philharmoniker led by Marcus Bosch. This programme was toured through Germany together with Stuttgarter Philharmoniker and Essener Philharmoniker in the same year. Romain Leleu's discography also includes recordings of the Hummel, Haydn and Neruda concertos with Baltic Chamber Orchestra; the André Jolivet, Georges Delerue, Karol Beffa, Jean-Baptiste Robin and Martín Matalon concertos with Orchestre d'Auvergne; Shostakovich's Concerto for Piano and Trumpet with Brandenburgisches Staatsorchester Frankfurt; and music for trumpet and organ with Thierry Escaich.
Romain Leleu performs regularly with his Romain Leleu Sextet. They play their own arrangements for trumpet and string quintet from different musical styles, ranging from classical to tango, jazz and film music. Their latest CD Face(s) à Face(s) contains works by Mozart, Vivaldi, Gershwin, Chaplin, Bernstein and Morricone.
Having studied trumpet in Paris with Éric Aubier and in Karlsruhe with Reinhold Friedrich, Romain Leleu was named "Révélation Soliste Instrumental" by the French Victoires de la Musique Classique in 2009, and awarded the Chevalier de l'Ordre des Arts et des Lettres by the French Ministry of Culture in 2016.
Romain Leleu is an exclusive Yamaha Performing Artist.
click to download images