Thomas Leleu
Tuba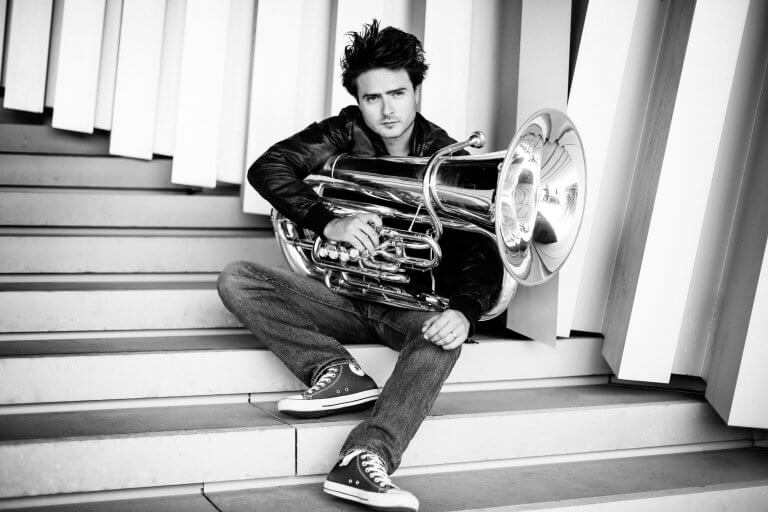 Hailed as "absolute tuba genius" (La Nouvelle République), Thomas Leleu was the first tuba player to win the coveted title of "Revelation Instrumental Soloist of the Year" at Victoires de la Musique Classique 2012. A prize winner of international competitions in Luxembourg, Markneukirchen in Germany, and Jeju in South Korea, Leleu was appointed Principal Tuba for the Marseille Philharmonic Orchestra at the age of 19.
Leleu receives regular invitations to perform around the world, performing with orchestras at renowned festivals and concert halls, including Konzerthaus Berlin, Festspiele Mecklenburg-Vorpommern, Kissinger Sommer, Brandenburgische Sommerkonzerte, MITO Settembre Musica, Maison de Radio France, Théâtre du Châtelet, Orchestre de Chambre de Paris, Orchestre National d'Ile de France, and Orchestre Philharmonique de Marseille, among many others.
Leleu is an iconoclastic artist who stands where genres mix: a classical soloist, passionate about world music, modern music and pop. Several composers have dedicated their pieces to him, such as Richard Galliano, Vladimir Cosma, Claude Bolling, Jean-Philippe Vanbeselaere, and André Waignein. Leleu has founded several unique and unprecedented ensembles, such as the Thomas Leleu Sextet (tuba and string quintet), tubaVScello (tuba and cello), and TL Trio (tuba, piano, vibraphone). In 2017, he created the show The Tuba's Trip, staged by Claude Tissier, a former creative director of Cirque du Soleil and House of Dancing Water, and co-produced by Opéra de Marseille.
In 2015, his album In the Mood for Tuba was released by Fondamenta / Sony Music to critical acclaim. In 2017, he recorded André Waignein's Impressions for Tuba with the Royal Orchestra of the Belgian Airforce. His last album Stories… with the TL Trio was released in 2019 by ARS-Produktion.
Leleu regularly gives masterclasses at prestigious universities around the world, including Hochschule für Musik Hanns Eisler Berlin, Universität der Künste Berlin, Conservatoire de Paris, New England Conservatory, Eastman School of Music, Beijing Central Conservatory, El Sistema, as well as in New York, Rio de Janeiro and São Paulo.
Leleu was admitted to Conservatoire de Paris at the age of 17, where he studied under Gérard Buquet. He graduated with First Prize for tuba performance and obtained his degree with distinction. He furthered his studies with Hans Nickel at Hochschule für Musik Detmold.
He has been a Melton Meinl-Weston Artist since 2011. He plays the "2250 TL French Touch" tuba, which he developed with the firm.
click to download images