WDR Rundfunkchor Köln
Chorus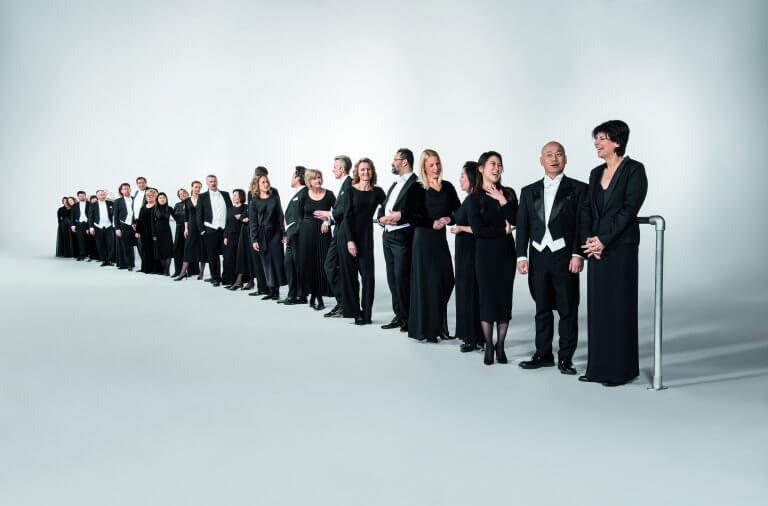 The WDR Radio Choir is a professional ensemble of 43 singers. Its home is the WDR broadcast studio in Cologne. Its profile is a great variety in repertoire as well as a specialization on innovative and demanding a cappella and instrumental projects.
The repertoire of the WDR Radio Choir ranges from mediaeval music to contemporary compositions. The WDR Radio Choir sings a cappella concerts as well as symphonic orchestral works, soloistic vocal music, film and computer game music, opera and contemporary experimental works. It performs alongside the WDR ensembles, presents itself in its own a cappella series and is regularly invited to sing with nationally and internationally renowned orchestras.
The programme of the WDR Radio Choir includes more than 170 world premieres by Schönberg, Henze, Stockhausen, Nono, Boulez, Zimmermann, Penderecki, Xenakis, Berio, Höller, Eötvös, Hosokawa, Pagh-Paan, Zender, Tüür, Mundry and many more. The Radio Choir is constantly moving, exploring new rooms, searching for challenges and bringing music of the highest difficulty to life. To impart the joy of choir music as well as regularly invite people to sing belongs to its range of tasks just as much as children and family concerts.
Over the last seven decades, the WDR Radio Choir was led by Bernhard Zimmermann, Herbert Schernus, Helmuth Froschauer, Anton Marik and Rupert Huber as chief conductors. In September 2014, Stefan Parkman took over this position. Since the beginning of the season 2020/2021 Nicolas Fink has been the chief conductor of the WDR Radio Choir. Furthermore, Simon Halsey has become creative director for choir music and extraordinary projects of the WDR Radio Choir.
click to download images