WDR Rundfunkchor Köln
Chorus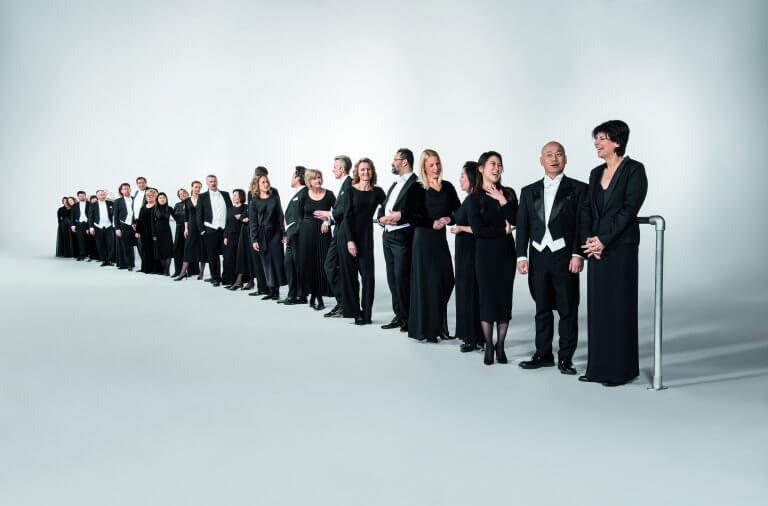 A professional choir of 43 singers based in the WDR broadcast studio in Cologne, Germany, the WDR Rundfunkchor Köln is widely acclaimed for its specialisation in innovative and demanding a cappella and instrumental projects.
The choir performs a great variety of repertoire ranging from medieval music to contemporary compositions. It presents a cappella concerts as well as concerts featuring symphonic choral works, works for solo voices, film and computer game music, opera and contemporary experimental works. It regularly collaborates with the WDR ensembles, and receives invitations to sing with other orchestras in Germany and abroad.
The choir has given more than 170 world premières by such eminent composers as Schoenberg, Stockhausen, Boulez, Penderecki, Xenakis, Berio, Nono, Henze, Bernd Alois Zimmermann, Karl Höller, Peter Eötvös, Toshio Hosokawa, Younghi Pagh-Paan, Hans Zender, Erkki-Sven Tüür, Isabel Mundry and many more. The choir is constantly evolving and exploring new territories, searching for challenges and bringing music of the highest difficulty to life. With the mission of imparting the joy of choral music, it regularly invites people to sing along, and hosts children and family concerts.
Over the last seven decades, the WDR Rundfunkchor Köln was led by Bernhard Zimmermann, Herbert Schernus, Helmuth Froschauer, Anton Marik, Rupert Huber and Stefan Parkman as Chief Conductors. Since the beginning of the 2020/2021 season, Nicolas Fink has been Chief Conductor of the choir, while Simon Halsey has been serving as Creative Director for Choral Music and Projects.
click to download images