For immediate release
24 Mar 2023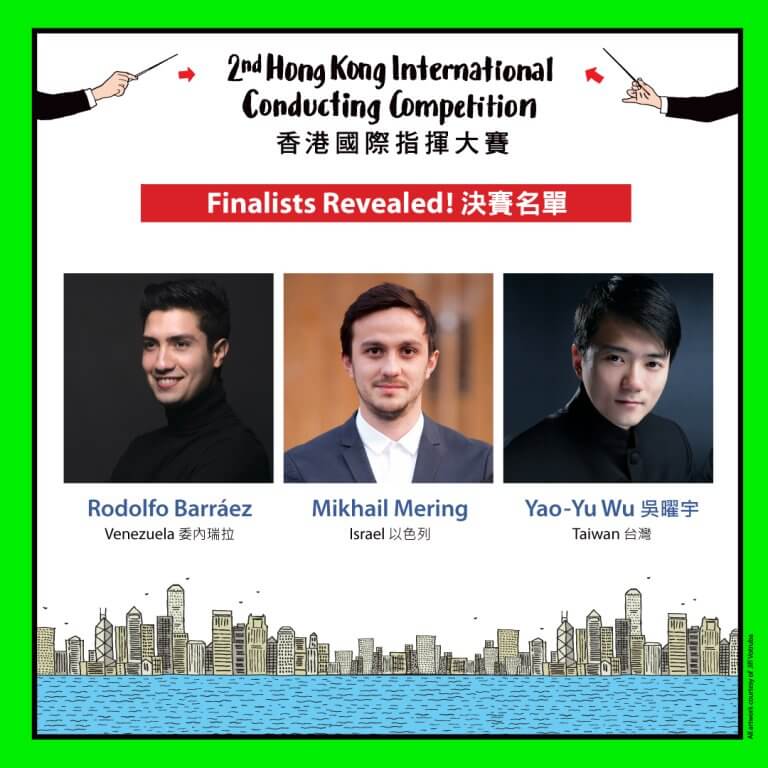 Organised by Hong Kong Sinfonietta, the 2nd Hong Kong International Conducting Competition has enjoyed its first two rounds of competition spanning three days, and announced Rodolfo Barráez (Venezuela, 29), Mikhail Mering (Israel, 31) and Yao-Yu Wu (Taiwan, 33) as the three Finalists who will compete for the top prizes on 26 Mar (Sun) at Hong Kong City Hall Concert Hall.
Barráez is currently the Associate Conductor of the Singapore Symphony Orchestra; Mering is Conductor of the Bolshoi Theatre Chamber Orchestra; and Wu is the Associate Conductor of the Taiwan Philharmonic. This Sunday, they will each conduct local composer Charles Kwong's new work for orchestra Infinity in the palm specially commissioned for the Competition, as well as a symphony of their choice, selected from three symphonies by Beethoven, Mendelssohn and Schumann. Barráez and Mering will be conducting Schumann's Symphony No 4, while Wu will be conducting Beethoven's Symphony No 4. The Finalists will also have to make a short presentation to the audience and introduce the symphony they are conducting.
Every round of the Competition is livestreamed online for free at www.hkconducting.com/live. Tickets to watch the Competition live at Hong Kong City Hall Concert Hall are also available at URBTIX. Voting for the two Audience Prizes (Live & Online audience) is already underway – live audiences can vote in person at the Concert Hall, while online audiences are encouraged to vote at www.hkconducting.com/vote.
The 2nd Hong Kong International Conducting Competition provides an invaluable platform for young conductors under the age of 35 to establish a network in Asia. The 1st Prize winner of the Competition will take home HK$200,000 as well as a concert engagement with Hong Kong Sinfonietta, and mentorship opportunities with selected members of the Jury. The Jury is made up of international conductors and people shaping the music business today, including Co-chairs Yip Wing-sie (Music Director Emeritus, Hong Kong Sinfonietta) and Christoph Poppen (Music Director Designate, Hong Kong Sinfonietta), as well as members Lü Shao-Chia (Conductor Emeritus, Taiwan Philharmonic), Thierry d'Argoubet (Former General Manager, Orchestre National du Capitole de Toulouse), Philipp Ernst (Artistic Planning & Deputy Managing Director, Munich Chamber Orchestra – Münchener Kammerorchester), Xenia Groh-Hu (Managing Director, karsten witt musik management), James Cuddeford and Laurent Perrin (Concertmaster and Assistant Principal Cello of Hong Kong Sinfonietta respectively).
******************************************************************************************************************************************************************
Brief biographies of the Finalists
Rodolfo BARRÁEZ (Venezuela, 29)

Associate Conductor, Singapore Symphony Orchestra
Dudamel Conducting Fellow 2022/2023, Los Angeles Philharmonic
2nd Prize, Siemens-Hallé International Conductors Competition 2020
1st Prize, Universidad Nacional Autónoma de México International Conducting Competition 2018
Conducting Fellow, Verbier Festival 2022

Mikhail MERING (Israel, 31)

Conductor, Bolshoi Theatre Chamber Orchestra & Bolshoi Theatre Wind Scene Orchestra
Semi-finalist, Tokyo International Music Competition for Conducting 2021
Assistant Conductor, Kostroma Symphony Orchestra (2014/2015)
Clarinettist, Bolshoi Theatre Orchestra

Yao-Yu WU (Taiwan, 33)

Associate Conductor, Taiwan Philharmonic
Music Director, Taipei Philharmonic Youth Orchestra
1st Prize, Orchestra Award & Audience Award, Besançon International Conducting Competition for Young Conductors 2013
Conducted the St Petersburg Symphony Orchestra, Orchestre National des Pays de la Loire, Polish National Radio Symphony Orchestra, Orchestre National de Lorraine, Orchestre National Bordeaux Aquitaine, etc
Online livestream: www.hkconducting.com/live
Online voting: www.hkconducting.com/vote
Competition website: www.hkconducting.com
More about the Candidates: https://www.hkconducting.com/competition/2023-competition/#candidates
******************************************************************************************************************************************************************
2nd Hong Kong International Conducting Competition
Finals & Award Presentation
26 Mar 2023 (Sun)
Hong Kong City Hall Concert Hall
$200 (URBTIX)
1:30 – 4:30pm
Round 3 – Finals
Charles Kwong (HKS Artist Associate 2020-2022) – Infinity in the palm for Orchestra
(world première; commissioned by Hong Kong Sinfonietta)
One of the following works, chosen by the candidate:

Beethoven – Symphony No 4 in B-flat, Op 60
Mendelssohn – Symphony No 4 in A, Op 90, "Italian"
Schumann – Symphony No 4 in D minor, Op 120

The finalists will make a short presentation to the audience
5:30 – 6pm
Result Announcement and Award Presentation
******************************************************************************************************************************************************************
Prizes
Six prizes will be awarded at the 2nd Hong Kong International Conducting Competition:
1st Prize: HK$200,000
                      Concert engagement with Hong Kong Sinfonietta during 2023/2024 season
                      Mentorship with conductor(s) from the Jury
2nd Prize: HK$100,000
3rd Prize: HK$70,000
Orchestra Prize: HK$10,000
Audience Prizes: HK$10,000 each for Live & Online Audiences
Download Press Release
Media Enquiry
Amanda Mok
Senior Marketing & Development Manager, Hong Kong Sinfonietta
Email: amanda.mok@hksinfonietta.org
Direct Line: +852 3607 2328