For immediate release
28 Apr 2023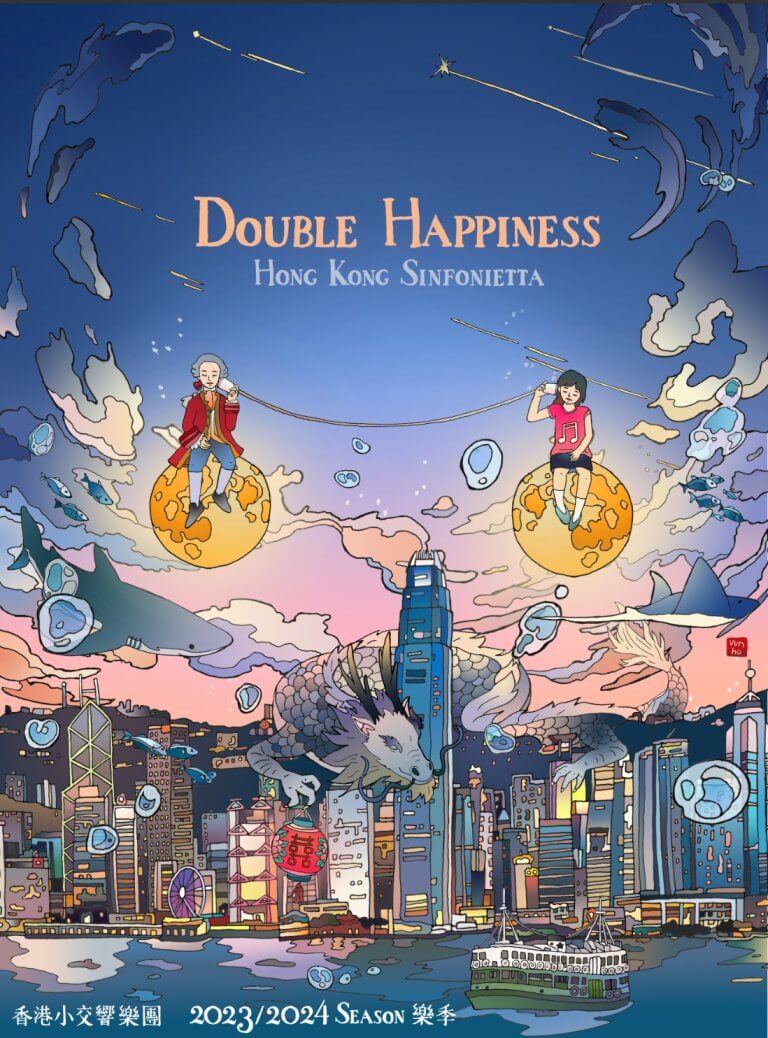 Hong Kong Sinfonietta's newly announced 2023/2024 season – centred around the theme of "Double Happiness" as derived from the Chinese saying that "good things come in doubles", and featuring a vibrant cover image illustrated by HKS Artist Associate Vivian Ho which perfectly encapsulates the wonder and beauty of sharing music – will bring to Hong Kong a wonderful array of internationally renowned artists performing not just a concert with the orchestra but also a recital paired alongside, or even two star artists paired together on stage for double the sparks and enjoyment!
This is the orchestra's first season with celebrated conductor, soloist, chamber musician and pedagogue Christoph Poppen at its helm as Music Director, who will be working closely with Music Director Emeritus Yip Wing-sie and newly appointed Associate Conductor Vivian Ip to deliver inspiring and innovative programmes to the community. The orchestra will also tour to Germany, Austria, France, Portugal and Shenzhen after a three-year hiatus from touring due to the pandemic. For more programme information, please refer to the Season Brochure: www.hksl.org/2324brochure
"DOUBLE ACTs" & "HKS Rectial Series"
With the first DOUBLE ACT – clarinet superstar Raphaël Sévère and viola sensation Adrien La Marca from France – having already made their appearance in April, the rest of the season will welcome more distinguished international artists from around the world to Hong Kong, some even sharing the stage in the brand new "HKS Recital Series":
French master pianist Jean-Efflam Bavouzet will be giving two performances during the French May Arts Festival, joining hands with Maestro Poppen for Beethoven's Piano Concerto No 2 (20 May), and giving a recital of evocative works by Debussy, Chopin and more (21 May).
One of the most sought-after pianists of his generation, Julien Libeer will play Poulenc's sparkling Piano Concerto under the baton of Music Director Emeritus Yip Wing-sie (17 Jun), and present a unique and wonderfully intelligent recital programme named "J S Bach & Beyond – A Well-Tempered Conversation" (14 Jun), both also part of the French May Arts Festival.
Not often does one see a tuba featured as a solo instrument in concert – but the instrument certainly deserves some spotlight. Joined by his brother and trumpet player Romain Leleu who will play Hummel's Trumpet Concerto in E-flat in the same concert, tuba player Thomas Leleu will play Vaughan Williams' iconic Tuba Concerto in F minor under Maestro Poppen (8 Jul). The brothers will also team up with musicians from the orchestra's brass section in Virtuoso + (9 Jul), an exciting and uplifting recital with brass music galore!
Leading French cellist Edgar Moreau will be bringing his impeccable technique and stunning musicality to Hong Kong once more as he returns to play Elgar's monumental Cello Concerto under conductor Daniel Raiskin (19 Aug). He will also be joined by his brother, rising pianist Jérémie Moreau, in a mesmerising recital of Schumann, Richard Strauss and Grieg (16 Aug).
Korean violinist Jehye Lee, currently Principal Second Violin of the prestigious Bavarian Radio Symphony Orchestra, garnered rave reviews in her début with Hong Kong Sinfonietta last season and is returning for a pair of concerts this season, playing Dvořák's Violin Concerto in A minor under conductor Alexander Liebreich on 23 Sep, and collaborating with Concertmaster James Cuddeford and the string musicians of the orchestra on 24 Sep for Schnittke's Concerto Grosso No 1 and other sparkling works for strings.
German star violinist Veronika Eberle will be taking centre stage with Music Director Christoph Poppen as they present the Hong Kong première of Toshio Hosokawa's violin concerto Genesis, as well as Mozart's beloved Violin Concerto No 3 in G (21 Oct). She will also give a recital with pianist Colleen Lee playing Bartók, Beethoven and Franck (19 Oct).
Collaborating with conductor Roberto Forés Veses, renowned French pianist Alexandre Tharaud will showcase his authoritative rendition of Ravel's Piano Concerto in G (4 Nov), as well as deliver a spellbinding programme of French solo piano works by Debussy, Satie, Ravel and Rameau in recital (2 Nov).
Trumpet superstar Sergei Nakariakov returns to Hong Kong following his previous triumphs, this time paired up with fellow trumpet player Gábor Boldoczki to give the Asian première of the great Fazıl Say's Concerto for Two Trumpets & Orchestra, co-commissioned by Hong Kong Sinfonietta (13 Jan 2024). The pair will also share the stage in recital (10 Jan 2024), playing some of the best trumpet works alongside pianist Colleen Lee.
Season highlights with Maestro Poppen
During his tenure as Hong Kong Sinfonietta's Principal Guest Conductor between 2015-2023, Maestro Poppen has delivered to the Hong Kong audience countless unforgettable performances and a wide range of repertoire. Currently also Principal Conductor of the Cologne Chamber Orchestra, Principal Guest Conductor of the Israel Chamber Orchestra and Artistic Director of the Marvão International Music Festival, in his first season as Music Director of Hong Kong Sinfonietta, he will be presenting several highly anticipated programmes such as the Asian première of Oh, To Believe In Another World (18 & 19 Nov) and Bach's Christmas Oratorio with the WDR Rundfunkchor Köln (1 & 2 Dec), on top of concerts with distinguished international soloists.
Shostakovich Symphony No 10 at Oh, To Believe In Another World
A film by leading contemporary artist William Kentridge, commissioned by the Luzerner Sinfonieorchester to accompany Shostakovich's monumental Symphony No 10, Oh, To Believe In Another World is a thought-provoking production which illustrates the story of Shostakovich and his complicated relationship with the Soviet state from the 1920s to 1960s through charming sets built from cardboard and historical figures brought to life as puppets.
Colleen Lee plays the world première of Charles Kwong's Piano Concerto
Praised for her "magnificent, heavenly touch… filled with poetic and profound emotion" (II Giornale di Vicenza), pianist Colleen Lee has enjoyed a close relationship with Hong Kong Sinfonietta over the years and was HKS Artist Associate from 2010-2011. On 1 Sep, under the baton of German conductor Clemens Schuldt, she will be playing the world première of local composer Charles Kwong's Piano Concerto. Kwong has enjoyed a rapidly growing international reputation in the past years, having been commissioned by ensemble recherche, Lucerne Festival, London Philharmonic Orchestra, Takefu International Music Festival etc. Since his first commission from Hong Kong Sinfonietta in 2014, he has written six orchestral and three chamber works for the orchestra, and taken up the post of HKS Artist Associate from 2020-2022.
Drumming superstar Senri Kawaguchi joins hands with Ng Cheuk-yin in Fly LIVE!
Renowned local composer and music producer Ng Cheuk-yin (HKS Artist Associate 2006-2008) worked together with the orchestra and young Japanese drumming superstar Senri Kawaguchi during the pandemic in 2020 to release Project FLY online, a cross-genre work infused with orchestral, rock and jazz elements. This season, Senri Kawaguchi will be visiting Hong Kong to perform the effervescent work under the baton of Music Director Emeritus Yip Wing-sie in a concert named Fly LIVE!, which will also feature a new commission by Ng. (23 Mar 2024)
Concert tours to Europe and mainland China
Hong Kong Sinfonietta will be touring Europe and mainland China in the 2023/2024 season, and appearing as the only Asian orchestra invited in two of the biggest summer music festivals in France and Portugal. From 29 Apr to 7 May, Music Director Emeritus Yip Wing-sie will lead the orchestra on tour to five cities in Germany and Austria, performing a programme including Charles Kwong's Pastoral – after we perish, as well as Tchaikovsky's beloved Rococo Variations with German star cellist Sebastian Klinger. In July, the orchestra will embark on another European tour where they will return to the prestigious Festival International de Piano La Roque d'Anthéron in France to give three concerts (22-24 Jul) with revered French pianists, as well as present the European première of Hong Kong composer Daniel Lo Ting-cheung's Autumn Rhythm II (2020). Under Music Director Christoph Poppen, the orchestra will also take centre stage at the Farewell Gala of the Marvão International Music Festival in Portugal (30 Jul). On 10 Nov, the orchestra and Yip Wing-sie will take part in China's biggest outdoor festival for classical music – the Shenzhen Lian Hua Shan Glades Music Festival – and perform Ravel's Piano Concerto in G with Colleen Lee.
More about the 2023/2024 season: www.HKSL.org
More about the overseas tours: https://hksl.org/about-us/tours/
Download photos:
https://www.dropbox.com/scl/fo/nex3nzj394jpl8fitmjar/h?dl=0&rlkey=x0oyj597t0g1f1yoer4v9j33q
---
Hong Kong Sinfonietta
Music Director Emeritus: Yip Wing-sie
Music Director: Christoph Poppen
Associate Conductor: Vivian Ip
One of Hong Kong's flagship orchestras, Hong Kong Sinfonietta has brought music closer to the community, and achieved significant local and international recognition for its passionate performances and innovative programming. The orchestra has collaborated with an illustrious array of international musicians and groups, including in recent years Ilya Gringolts, Martin Helmchen, Sergei Nakariakov, Jean-Guihen Queyras, Krzysztof Penderecki, The Royal Ballet, English National Ballet, American Ballet Theatre, New York City Ballet, Stuttgart Ballet and Tanztheater Wuppertal Pina Bausch.
Hong Kong Sinfonietta is a regular guest at international arts festivals and has toured 46 cities around the world. As an avid believer of keeping music alive and contemporary, the orchestra commissions and performs new works every year and ventures into new initiatives, recently receiving wide acclaim for its Back On Stage concert film series and becoming the first local orchestra to appear in cinemas. Following the success of the first edition in 2018, the orchestra organised the 2nd Hong Kong International Conducting Competition in 2023, attracting applications from 45 countries/regions around the world and providing an invaluable platform for young conductors to establish their careers.
Download Press Release
Media Enquiry
Amanda Mok
Senior Marketing & Development Manager, Hong Kong Sinfonietta
Email: amanda.mok@hksinfonietta.org
Direct Line: +852 3607 2328