Beethoven 250 & Beyond – about the new season 2020/2021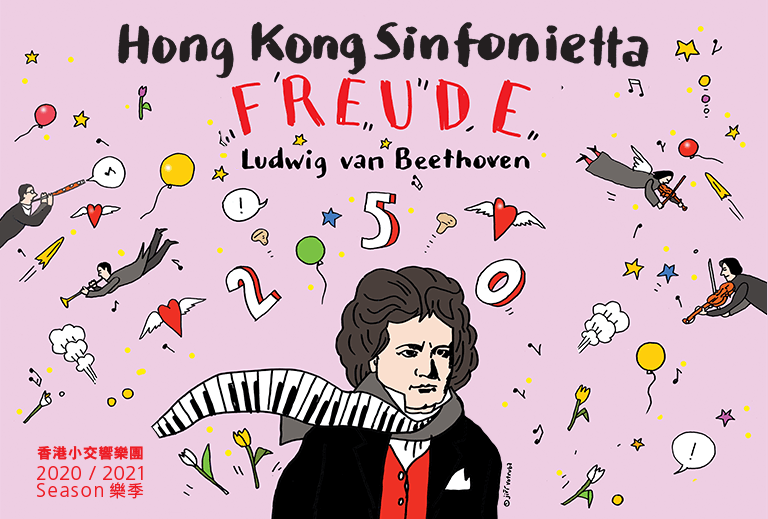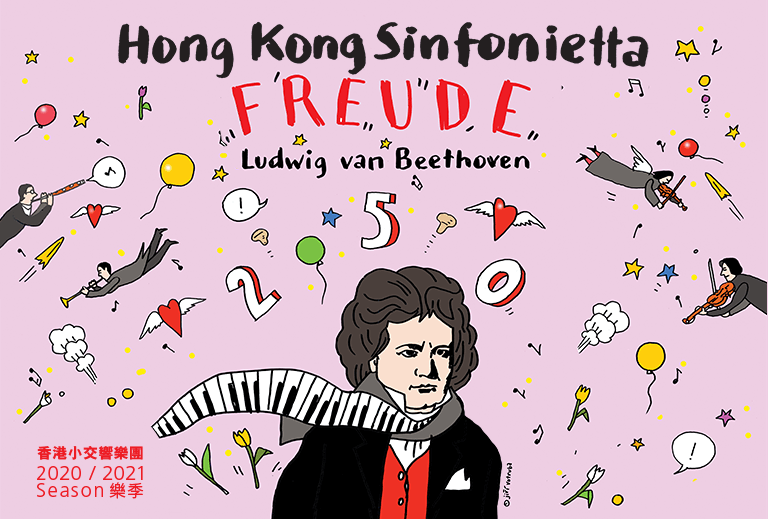 Ludwig van Beethoven, one of the greatest musicians who ever lived, was born in 1770 and the whole world is celebrating his 250th birthday in 2020. We actually started early in November 2019, when we featured his Symphony No 1 as well as his Triple Concerto. Entering 2020 however, with the coronavirus and the closure of performing venues, we were unable to bring you more Beethoven goodies. As such, we have no choice but to extend it perhaps to the following season, if we cannot cover all his main works within this season. We will see how the world progresses with this unexpected virus.
This season, we feature two original productions: one is still under cover while this goes to print, but the other will be in December, where we will be collaborating with the Taiwanese drama group Mr Wing Theatre Company on an original symphonic musical.
Also in this season, Hong Kong Sinfonietta continues with its spirit of world travel – as we open the KlangBasel Festival in Basel, join the Besançon International Music Festival in France, the Marvão International Music Festival in Portugal, and the summer season of Opéra de Vichy in France. In mid-April, coronavirus permitting, we will also have a tour to Germany combined with our début performance in Austria.
In Hong Kong, we welcome, as usual, many international musicians as well as local musicians. This year our Artist Associate is composer Charles Kwong who will be writing new works for the orchestra. We also continue with our co-commissioning projects with international composers. From the pit, we will be collaborating as usual with our partners the Hong Kong Ballet and Opera Hong Kong.
McDull (who has just stepped down as HKS Artist Associate for 2019/2020) and his team have already started work to create yet another new programme – and this time to celebrate Chinese New Year. Let's hope that we will be able to kick off 2021 on a better note – for everyone in Hong Kong, and the rest of the world.
Beethoven said, amongst other things "Muss es sein? Es muss sein! Es muss sein!" Yes, the concerts must go on.
Beethoven 250 in Hong Kong: 《FREUDE – Joy – 喜悅》
Beethoven works featured in 2020/2021 season
Symphony No 1 in C, Op 21 (11.9.2020)
Symphony No 3 in E-flat, Op 55, "Eroica" (16.5.2020, 7.8.2020)
Symphony No 4 in B-flat, Op 60 (11.7.2020, 24.7.2020, 1.8.2020,  5.8.2020)
Symphony No 5 in C minor, Op 67 (7.11.2020)
Symphony No 6 in F, Op 68, "Pastorale" (13.6.2020, 31.10.2020)
Symphony No 7 in A, Op 92 (24.10.2020)
Symphony No 8 in F, Op 93 (26.9.2020)
Symphony No 9 in D minor, Op 125, "Choral" (31.7.2020, 30.1.2021)
Piano Concerto No 1 in C, Op 15 (15.11.2020)
Piano Concerto No 2 in B-flat, Op 19 (30.1.2021)
Piano Concerto No 3 in C minor, Op 37 (24.10.2020, 15.11.2020)
Piano Concerto No 4 in G, Op 58 (16.5.2020, 11.7.2020)
Piano Concerto No 5 in E-flat, Op 73, "Emperor" (13.9.2020, 14.9.2020, 31.10.2020)
Violin Concerto in D, Op 61 (11.7.2020)
String Quartet in C minor, Op 18 No 4 (23.6.2020)
Piano Quartet in C, WoO 36 No 3 (20.10.2020)
Coriolan Overture, Op 62 (31.10.2020, 30.1.2021)
Beethoven Symphonies Medley (Beethoven/Charles Kwong) (19-21.2.2021)
Cover Artwork: "Freude – Ludwig van Beethoven 250"
Drawn by Jiří Votruba for Hong Kong Sinfonietta in 2020
www.votruba.cz