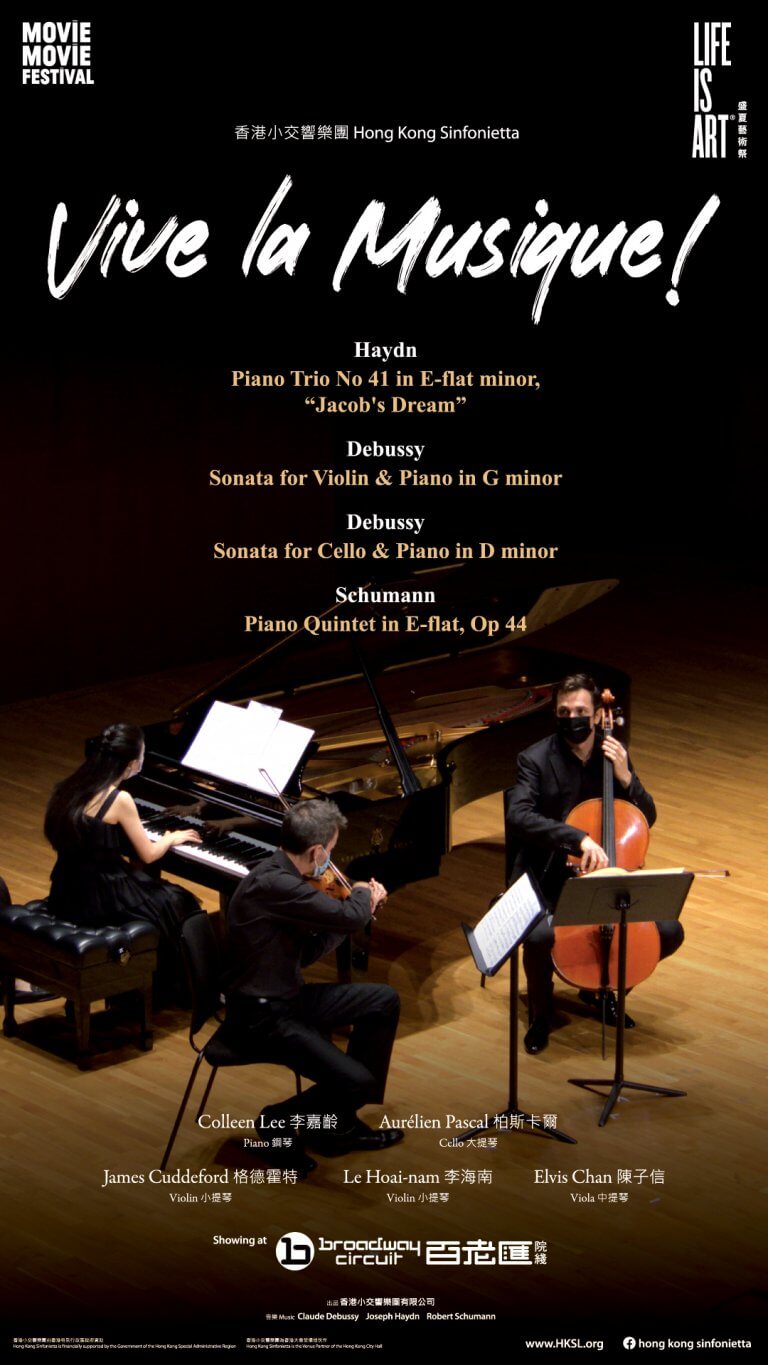 Vive la Musique! 
WORLD PREMIÈRE at MOViE MOViE Festival【Life is Art 2021】
Cello: Aurélien Pascal
Piano: Colleen Lee (HKS Artist Associate 2010-2011)
Violin: James Cuddeford, Le Hoai-nam
Viola: Elvis Chan
Director: Stanley Ho
Programme
Haydn            Piano Trio No 41 in E-flat minor, Hob XV:31, "Jacob's Dream"
Debussy        Sonata for Violin & Piano in G minor
Debussy        Sonata for Cello & Piano in D minor
Schumann     Piano Quintet in E-flat, Op 44
Performed / Recorded: 8 Nov 2020
First release: 17 Sept 2021 (Hong Kong)
Duration: 90 minutes
Language: English (Chinese, English subtitles)
---
"The way the musicians look at each other, the flow of emotions, the surge of energy…is electrifying."
At the end of  Back On Stage II (Quarantined!), is a bonus Beethoven Spring Sonata by Christoph Poppen (violin) and Alexander Krichel (piano). Surprisingly, this sonata, in the company of a piano concerto and a symphony, was equally well-received if not preferred! Encouraged by this, works for a smaller set-up, more commonly referred to as "chamber music" (music in a room), were filmed.
Vive la Musique! was recorded one day after Back On Stage III: DESTINY in November 2020, and it includes one of Haydn's later trios "Jacob's Dream" – so named because of the ladder-like portrayal in the 2nd movement, Debussy's last work – his jazzy violin sonata, and the cello sonata – which has become a standard repertoire for cellists. The Schumann Piano Quintet, probably one of his most-played chamber works concludes the performance. With multiple cameras capturing the intimate expressions of the musicians, Vive la Musique! promises a journey of mesmerising music for the ears and eyes.
---
TRAILER
---
PAST SCREENINGS

MOViE MOViE Pacific Place
17.9.2021 (Fri) | 7:25pm* 
22.11.2021 (Mon) | 7:50pm (Additional Screening)
PALACE ifc
21.9.2021 (Tue) | 7:25pm*
7.12.2021 (Tue) | 7:50pm (Additional Screening)
HK City Hall Concert Hall
3.8.2022 (Wed) | 7:30pm*
*With post-screening sharing session:
– James Cuddeford (Concertmaster, Hong Kong Sinfonietta) [17.9.2021, 21.9.2021, 3.8.2022]
– Colleen Lee (Pianist / HKS Artist Associate 2010-2011) [17.9.2021, 21.9.2021]
– Yip Wing-sie (Music Director Emeritus, Hong Kong Sinfonietta) [3.8.2022]
---
Featured Artists